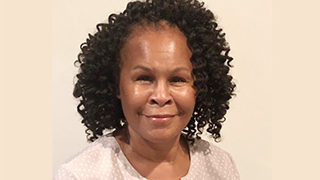 Two-time alumna Benay Johnson, M.A. '93/D.N.P. '18 followed her lifelong passion of helping others by pursuing her D.N.P.
Some nurses discovered their passion for the profession while adults. But for Benay Johnson, M.A. '93/D.N.P. '18, her journey toward helping others began as a young girl in Los Angeles when her mother worked as a nurse in a hospital recovery room. During those times she would take her daughter with her into work on the weekends, Benay grew to love the idea of helping people and working within a hospital setting. "All the staff were welcoming and appeared to love their job," she said.
In high school, she focused on math and science to prepare herself to enter nursing in college. She studied at California State University and received her B.S.N., then entered Seton Hall in 1993 as a student in the Advance Practice Program in Pediatric Primary Care. Upon receiving her master's degree from Seton Hall, she started working at Morgan Stanley Children's Hospital of New York Presbyterian Hospital — first as a research nurse clinician then as a pediatric nurse practitioner, spending half of her time caring for patients, and the other half doing clinical research.
Benay eventually returned to school again, receiving a certificate in neonatology from Columbia University. But this wasn't the end of her learning journey. "I was not thinking about a doctorate until I graduated from Columbia University," she said, admitting she thought she was past a reasonable age of obtaining a doctoral degree. "I found myself the oldest person in my cohort by at least 15-20 years. Then at graduation, I noted that there were more mature nurses receiving their doctorate."
It was at this point that she made her decision to pursue her doctorate in nursing practice (D.N.P.). Though Columbia University was a strong contender, a conversation with Seton Hall's Graduate Recruitment Coordinator Sharon Dobrina reminded Benay of her love of her alma mater. "The decision on where to go for a doctorate was easy — I wanted to return home to Seton Hall."
Even though Seton Hall's D.N.P. program is offered online, Benay still felt connected to the school and her fellow classmates, finding the online discussions a good way to get to know her fellow classmates. Plus, Associate Professor Mary Ellen Roberts, D.N.P., R.N. was available whenever Benay needed her assistance. "I loved coming to campus once a semester to meet with Dr. Roberts and the other students in our cohort."
Benay worked full time as a neonatal nurse practitioner in a Level III neonatal intensive care unit (NICU) while working toward her D.N.P., but she wasn't very concerned with balancing her work and school responsibilities. "I consider myself a very organized individual, so I planned out my assignments," she explained. "I work 24-hour shifts, so I have days off in good stretches, which would allow me to complete household tasks as well as study time."
When she completed her D.N.P. capstone project, "Improving Neonatal Resuscitation Readiness," she had a great sense of accomplishment. "I worked hard on this project in part because it affected a portion of my job requirement and the working relationship between the NICU and Labor and Delivery departments," she said. Not only did Benay learn more about her chosen field of study, but she became more aware of the financial aspects of healthcare and the importance of research. "I have become more conscious of supply usage," she admitted. "I also find myself conducting more literature searches when I am seeking an answer to a medical question or increasing my knowledge in an area of my own knowledge deficit."
In 2017, Benay took on a new role at Seton Hall as an adjunct professor for Clinical Pediatrics. Then this year, she was asked to join the graduate department as an adjunct for the Advance Practice Pediatric Primary Care Program. She looks forward to growing in her role as an educator and contributing to the field of nursing by developing future Pediatric Nurse Practitioners — who then may go on to inspire young people like herself.
Categories: Alumni , Health and Medicine