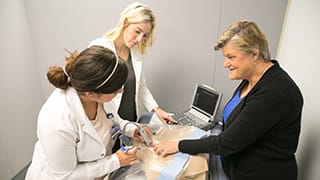 College of Nursing Associate Professor Mary Ellen Roberts works closely with Nursing Practitioner students in the Adult-Gerontology program.
Nurse practitioners make a difference in the communities they serve by offering high-quality primary, acute and specialty health care services with an added focus on disease prevention, health management and patient education, according to the American Association of Nurse Practitioners.
Highly trained and board-certified health professionals, nurse practitioners bring a holistic and comprehensive perspective to care. Nurse practitioners are also important contributors to solving the national nursing shortage caused by a demographic shift as the Baby Boomer generation retires. Equip with the necessary knowledge and clinical competency, nurse practitioners are a "a force multiplier in the battle against the growing care gap."
"NPs are filling the need by taking care of the vulnerable populations, working in areas such as Newark and Paterson and Camden, where there's a great need to take care of the underserved," said Mary Ellen Roberts, D.N.P., R.N., APNC, FNAP, FAANP, FAAN, in a recent feature on NPSchools.com, "Ask a Professor: The Practice Environment in New Jersey."
An associate professor at Seton Hall's College of Nursing and a certified Adult Nurse Practitioner and Acute Care Nurse Practitioner, Roberts maintains a practice with the Urban Health Initiative Program serving vulnerable populations in the greater Newark, New Jersey area. She has an enduring interest in the advancement of the nurse practitioner role in today's healthcare environment, encouraging and teaching nurse practitioner's role development and advancement, and the importance of staying politically active.
The College of Nursing offers nurse practitioner programs in the focus areas of R.N.-to-M.S.N., Adult-Gerontology, Pediatrics and recently added Psychiatric-Mental Health.
The field is growing, with the Bureau of Labor Statistics projecting a 45 percent change in employment from 2019 to 2029 for nurse practitioners, a type of advanced practice registered nurse. This rate of growth is much faster than the four percent average job outlook rate for all occupations.
"The future is bright," said Roberts. "We're educating more and more NP students. There are more and more positions becoming available in the acute care setting, and more and more positions becoming available in the primary care setting. NPs are going to make a huge difference in healthcare. They already have, and I think they'll continue to."
Categories: Arts and Culture , Education , Health and Medicine , Nation and World