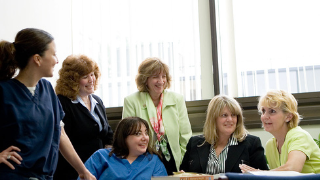 Recognizing the national nursing shortage, the College of Nursing has created a new program designed for nurse administrators in entry, middle and executive-level nursing leadership positions. The M.S.N. in Nursing Administration and Executive Nurse Leadership provides a distinctive and rigorous education for those seeking careers in nursing administration and executive leadership in health care.
This 35-credit online program — which offers full- and part-time options — is designed to prepare nurse leaders to lead and assume roles which drive key business administrative and clinical decisions as well as formulate healthcare policy.
"There has never been a more important time for nurses to learn to be leaders," said Marie Foley, Ph.D., R.N., dean of the College of Nursing. "Graduates of this program will learn and apply innovative and creative strategies to direct and advocate for the provision of high-quality care across the spectrum of healthcare delivery systems."
The curriculum focus is on the evolving set of skills required in an integrated healthcare delivery system including informatics, marketing, reimbursement, risk management, negotiation, and corporate integrity. The program also provides administrative practicums which foster and support immersive experiences with nurse executives in various healthcare settings.
Students completing the curriculum are eligible to sit for the American Nurses Credentialing Center (ANCC) Nursing Administrator Examination; the Commission for Case Management Certification (CMCC) Examination, and upon completion of all the requirements may apply and sit for the American College of Healthcare Executive (ACHE) Board of Governors Examination to advance as a Fellow.
For more information, visit the M.S.N. in Nursing Administration and Executive Nurse Leadership program page.
Categories: Health and Medicine