Thursday, October 21, 2021
Associate Director for the Buccino Leadership Institute Katherine Connolly and Patricia Esposito, a nursing senior and Buccino Leadership student, both organized "Celebrating Seton Hall's Frontline Nurses" and served as master of ceremonies for the event.
After witnessing the challenges that nurses have been through during the COVID-19 pandemic, Clinical Assistant Professor of Nursing Katherine Connolly, M.S.N. '99/D.N.P. '17, who also serves as associate director for the Buccino Leadership Institute for the College of Nursing, wanted to do something to recognize alumni nurses who were frontline providers over the past year and half.
"Celebrating Seton Hall's Frontline Nurses" was held on Friday, September 17 on Seton Hall's South Orange campus in Bethany Hall and served as an evening of celebration to "recognize these efforts at a time when most people cannot comprehend what our profession has been through," per Connolly. The event was sponsored by the College of Nursing in conjunction with the Buccino Leadership Institute.
Patricia Esposito, a nursing senior and Buccino Leadership student, quickly volunteered to take a leadership role in organizing the event and served as an emcee during the event. "Recognizing the importance honoring our frontline nurses, Patricia eagerly volunteered to collaborate, organize the event and serve as master of ceremonies with me," said Connolly. "This included requesting our alumni nurses send in pictures of themselves in their PPE and, with those, she created an emotional tribute video that was featured that evening."
"Honoring those who gave their service in helping others is a privilege, and made this event extremely special," said Esposito. "We all have the potential to turn a life around. Whether that be a small act of kindness or a large act of compassion, we can all make a difference in someone's life through our own actions."
During the event, Esposito expressed her gratitude to the alumni nurses for their service. "While the rest of the world stayed at home, you went to work, day after day, bravely trying to fight back this pandemic. There are nurses in the room tonight who were new graduates just out of school and were thrown into this firestorm as their first nursing position," she said. "We also know there are nurses in the room tonight who got sick with Covid from their level of exposure at work. And let's not forget that there are many in this room tonight who assisted dying patients with heartbreaking final goodbyes."
Over 115 alumni and guests attended the event, including College faculty and administration who wanted to honor and thank our frontline nursing alumni. "Many of the nurses in attendance were touched by the inspirational testimonies and the number of faculty and administration who were in attendance to express their appreciation," said Connolly.
Opening prayers were led by nursing alumni Ana Santoliquido '15 and Christiana Molnar '14, followed by opening remarks by Marie Foley, Ph.D., R.N., dean of the College of Nursing.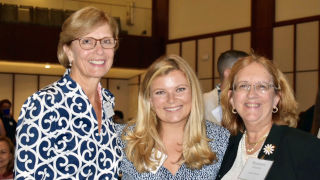 Connolly pictured with College of Nursing alumnae Lisa Blomgren '15/M.S.N. '21 and Maureen Schneider, Ph.D. '14.
"Each of you has your own story to tell, whether it was your innovation when PPE was scarce, being present with your patients who were dying alone because their loved ones were not able to be with them, or not going home to your own families because you did not want to bring this terrible virus back to infect them," said Dean Foley that evening. "But you all share the same story of dedication, perseverance, innovation and great accomplishments. You also share the fact that you live the mission of Seton Hall every day in your work and as exemplars of servant leadership."
Two College of Nursing alumna, Lisa Blomgren '15/M.S.N. '21 and Arlene Kennedy '16 spoke of their experiences as critical care nurses during the early months of the pandemic. Blomgren received her B.S.N. from Seton Hall and recently served as a graduate assistant in the College for the past two years while earning her M.S.N., Acute Care Nurse Practitioner. She is now board certified as an acute care nurse practitioner, accomplishing all this while working full time as a nurse in the ICU. Kennedy graduated with her B.S.N. in 2016. Upon graduation, she immediately began working at the ICU at Centre State Hospital in Freehold and still works there. Kennedy shared her experience from when the news media descended upon her hospital in droves early in the pandemic when seven members in one family contracted COVID-19, four of them losing their fight against the deadly virus. As a nurse working in the ICU, Arlene and her colleagues cared for this family, witnessing the heartbreak they went through.
Bryan C. Price, Ph.D., executive director of the Buccino Leadership Institute also spoke about the leadership and selflessness of nurses during the pandemic. Price, who is a retired Lieutenant Colonel of the U.S. Army, is a graduate of U.S. Military Academy at West Point and has a career steeped in leadership development. Prior to coming to Seton Hall, he taught at West Point and was director of the Combating Terrorism Center, a center with significant global influence.
Videos with well wishes were viewed from those who could not attend in person and included Seton Hall President Joseph E. Nyre, Ph.D.; Monsignor Joseph Reilly, S.T.L., Ph.D., rector and dean of Immaculate Conception Seminary School of Theology; Leslie D. Hirsch, FACHE, president and CEO, St. Peter's Medical Center; and Robert C. Garrett, FACHE, CEO, Hackensack Meridian Health.
Saint Peter's Healthcare System, the Atlantic Health System, RWJ/Barnabas Health and Hackensack Meridian Health were co-sponsors of the event. Representatives from these healthcare agencies were in attendance to express their thanks to the nurses. This included Judith Caruso, D.N.P., M.B.A., FACHE, executive board member, St. Peter's University Hospital; Maureen Schneider, Ph.D. '14, chief nursing officer, Chilton Medical Center; Donna Ciufo, D.N.P., vice president of nursing education professional practice and leadership development, Hackensack Meridian Health; and Jain Zhang, APRN, cardiology nurse practitioner at RWJBH and preceptor for the College's Acute Care Nurse Practitioner program.
Other attendees at this alumni event included Karen Boroff, Ph.D., the former Provost whose vision it was to expand the Buccino Leadership Institute beyond the Stillman School of Business and include other colleges and schools in the university.
After the event, Connolly received many emotional text messages and emails from alumni who said they really needed the event to help them process what they have been through. "The event highlighted the reason why nursing is the most trusted profession," said Connolly. "The College of Nursing is very proud of their alumni for their courageous work during this unprecedented time."
Looking back at the success of the evening, Esposito reflected, "It was my honor to work on this project to recognize the heroic efforts of Seton Hall nurses and nurses around the world during this crisis. I am in awe of all the sacrifices each of the nurses made. They are our role models, our heroes and our inspiration."
Categories: Alumni , Health and Medicine