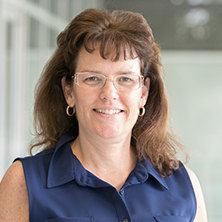 Moira Kendra, D.N.P. '17, and a clinical instructor in the College of Nursing, presented the results of an evidence based research project at a national CHEST (American College of Chest Physicians) meeting of pulmonologists that will have a significant effect on the treatment of chronic obstructive pulmonary disease (COPD). The project, known as the COPD Care Bundle, was done in partnership with Maryellen Roberts, D.N.P., associate professor and program director for the Doctor of Nursing (D.N.P.) program.
The project was developed from Kendra's D.N.P. thesis with support and oversight from Roberts and implemented through Atlantic Health Systems and Morristown Medical Center, where she is currently a nurse practitioner. 
The objective sought to reduce disparities related to patients needing to return to the hospital within 30 days of discharge who had, in the interim, become sicker.
Following four years of research involving educating and collecting data with over 221 patients, Kendra implemented a re-admission prevention strategy which included scheduling appointments for patients within seven days of discharge. At the appointments, patients were issued pulmonary education packets detailing pre-emptive tactics for self-care that would ultimately reduce the re-admission rate by 25% during the first 60 days. According to Kendra, this was proven to be sustainable, and is a "game changer" for patients as well as hospitals.
For the work, Kendra and Morristown Medical Center were awarded an Excellence in Quality Improvement Award.
Kendra went on to write the abstract that was accepted and presented at the annual CHEST meeting this year. She notes that it is difficult to change pulmonary practice. The fact that her research was accepted at a physician driven conference was significant, not only to the research itself, but to the increasing impact of nursing in modern healthcare. 
Roberts states, "Dr. Kendra's dedication and success of her final scholarly project is an example of the work that DNP students at Seton Hall are doing to change the quality of healthcare patients receive in the United States. Our students really are changing lives one patient at a time." 
According to Kendra, her success is due in no small part to the support of key stakeholders such as Roberts and Trish O'Keefe, president of Morristown Medical Center and vice president of Atlantic Health System. "Dr. Roberts is a phenomenal nursing leader who pushes you outside your comfort zone to make you a better nurse," she states. "She and Dr. O'Keefe are global leaders and now they have made me one."
Learn more about the D.N.P. program here.
Categories: Health and Medicine