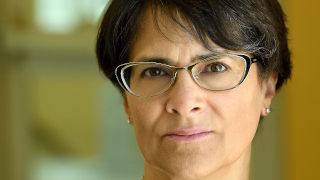 We are very pleased to announce the Women and Gender Studies Conference that will take place the week of March 22nd. This year the Conference will be virtual. Instead of a full day conference, we will hold two panels a day, one at 12:30 p.m. and one at 4:30 p.m., each lasting one hour. We have an exciting line up of panels on the history of women at Seton Hall, on the position of women in academia, on women in the sciences, and on women writers. Register here for each session you would like to attend. A Microsoft Teams link for the session will be sent closer to the panel. 
We are also very pleased to announce that our keynote speaker will be Martha Jones, Ph.D. Professor Martha S. Jones is the Society of Black Alumni Presidential Professor and Professor of History at The Johns Hopkins University. She is a legal and cultural historian whose work examines how black Americans have shaped the story of American democracy.
Professor Jones is the author of several important books. She also frequently writes for broader audiences at outlets including the Washington Post, the Atlantic, USA Today, Public Books, and Time, and collaborates with the Smithsonian's National Portrait Gallery, the Charles Wright Museum of African American History, the American Experience, the Southern Poverty Law Center, PBS, Netflix, and Arte (France.) Professor Jones holds a Ph.D. in history from Columbia University and a J.D. from the CUNY School of Law. Prior to the start of her academic career, she was a public interest litigator in New York City, recognized for her work a Charles H. Revson Fellow on the Future of the City of New York at Columbia University.
Professor Jones's most recent book is Vanguard: How Black Women Broke Barriers, Won the Vote, and Fought for Rights for All (Basic 2020). Her keynote address will examine the role of black women in civil rights movements, including women's right to vote. Please join us!
Categories: Arts and Culture