Thursday, November 19, 2020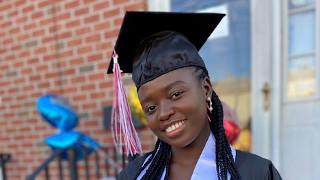 Adeola Adetayo attends Seton Hall University.
Recent graduates of Seton Hall University's Upward Bound program began their college careers this fall semester prepared to face the challenges post-secondary education can bring.
Upward Bound was established by President Lyndon Johnson as part of the "War on Poverty" declared in 1964. The program falls under the U.S. Department of Education's TRIO offerings – federal outreach and student services programs designed to identify and provide services for individuals from limited-income or underserved backgrounds. Upward Bound provides educational opportunities as well as a space for personal and professional development with the goal of preparing students for post-secondary education.
As one of the first TRIO programs in the state, Seton Hall's Upward Bound program provides a "Saturday Academy" during the school year and daily classes during its summer program. It has prepared literally thousands of young men and women for college.
According to Marva Cole-Friday, director of the Federal TRIO Upward Bound Program at Seton Hall, the program can accommodate 131 students from underserved communities in Essex County each year with academic enrichment, financial planning and SAT and ACT prep classes. The program at Seton Hall has a retention and graduation rate of 80 percent, with 72 percent of its students ultimately enrolling in a post-secondary educational institution.
"The program's mission is to build, encourage, and create an environment for learning," said Cole-Friday. "We do all this while providing participants with the skills necessary to successfully complete high school, as well as pursue and complete a post-secondary education."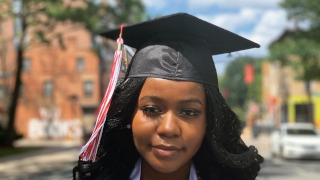 Kutorkor Kotey attends Princeton University.
In addition to Cole-Friday, the program is staffed by Associate Director Abena Douglas, Educational Coordinator Samantha Dow-Hankerson, Program Coordinator Keshia Crawford and several part-time math, writing and science instructors as well as four Advocates/Advisors.
Kutorkor Kotey and Adeola Adetayo graduated from the Upward Bound program this last spring and began their college educations this fall. Kotey and Adetayo both attended Bard Early College High School Newark.
Kotey is attending Princeton University after receiving a full scholarship. She is interested in studying political science and pursuing a career in educational or youth policy. At Princeton, she is a scholar in the Leadership Enterprise for a Diverse America and a member of the Princeton African Students Association.
Reflecting on her experience in Seton Hall's Upward Bound program, Kotey remarked how it had opened her eyes to not only the opportunities available within higher education but also to her own potential. "If I had not participated in the Upward Bound program my understanding of college would not be where it is right now. I would be limited to colleges in my state," said Kotey. "Because of Upward Bound and its resources, I was able to travel out of state to see what else is there and what I could obtain in the future."
The support of her mentors and classmates helped her become more self-confident, she said. "Whatever space I am in, I know I can contribute something to the table," said Kotey. "Every time we went on Saturday, they encouraged us to share our perspective. Even if we did not always know what we are talking about, they appreciated our insight. Having that confidence opens so many doors for me."
Adeola Adetayo began her work toward a degree in biology on a pre-med track at Seton Hall this fall. She aspires to be a cardio-thoracic surgeon and to contribute to the healthcare systems in both the United States and Nigeria. Born and raised in Nigeria, she immigrated to the United States, allowing her to learn how to balance the differences between two cultures.
Like Kotey, Adetayo also commented on the personal development she experienced through the program. Adetayo was encouraged after joining Upward Bound to overcome her shyness and engage with her peers. "Upward Bound really helped me come out of my comfort zone, communicate better, and appreciate every opportunity given to me – and to use it wisely," said Adetayo.
Adetayo attributes in part the strong start of her first semester to what she learned during her time in the program. "Upward Bound helped us prepare for the workload that comes in college," said Adetayo. "I learned to manage my time wisely, because they knew I would be stressed either way, so they helped me get over the stress and get my tasks done on time."
From community service and cultural excursions, to tutoring and college tours, the resources available through Upward Bound are designed to prepare students for success despite any challenges or setbacks they may experience. "Because I was in Upward Bound, even as a first generation college student, I am more knowledgeable about what college entails, as well as more prepared for college, than students who had parents who attended college," said Kotey.
"That's what this program is all about," said Upward Bound Associate Director Abena Douglas. "Kutorkor and Adeola's experiences are the epitomes of what the Upward Bound Program challenges our students to be, and that is to be accountable and responsible for their own life's journeys."
For more information about the Seton Hall University Upward Bound program, contact Marva Cole-Friday at marva.colefriday@shu.edu or 973-761-7161.
More about Upward Bound:
Upward Bound strives to increase the rate at which participants complete secondary education and enroll in and graduate from post-secondary educational institutions. Providing a variety of resources to students at no cost, the federally funded program is committed to helping each participant grow intellectually, develop effective communications skills and develop an awareness of their civic responsibilities.
"We accomplish our mission through structured educational enrichment courses, developing personal and educational goals, and clarifying personal values," said Cole-Friday.
UB serves first generation students who are citizens and permanent residents, who meet the limited income requirement defined by the federal government and who demonstrate the potential for academic success and personal growth.
To recruit students each year, SHUUB works with six target schools in the East Orange, Irvington and Newark areas. The schools are East Orange High School, Central High School, Irvington High School, Malcolm X Shabazz High School and West Side High School, according to Cole-Friday.