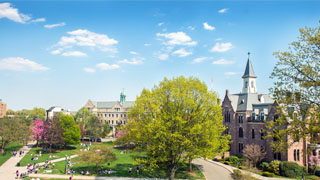 Thanks to the extraordinary generosity of our Seton Hall donors, University Advancement raised $21.6 million in gift commitments during fiscal year 2016 - surpassing its goal of $20 million. The $21.6 million is more than double the amount raised in 2012 and is one of the highest total amounts raised in University history.

Last year's total includes a $5 million gift from Patrick M. Murray, University alumnus and chair of the Board of Regents, and his wife, Mary Ann Pfaff Murray. The gift commitment from the Murrays represents the largest donation since President A. Gabriel Esteban was appointed and the largest since Seton Hall's last fundraising campaign. The donation will be used to establish merit and need-based scholarships for students, to endow a faculty chair in the Stillman School of Business, and to fund renovations to athletic facilities.
"I am very optimistic about our future," said University President A. Gabriel Esteban. "Every year we grow stronger, expanding our offerings and further solidifying our place among the top Catholic universities in America. The culture of giving back is now flourishing here at Seton Hall, and the seeds we have sown bear the fruit of opportunity for our students, our faculty and our community at large."
In addition to this year's fundraising success, increased philanthropic support has created more than 70 new endowed scholarships in the past five years helping to attract the best and brightest students while allowing Seton Hall to stay true to its mission of being a "University of Opportunity" by enrolling approximately 30 percent Pell-eligible students among our diverse undergraduate student body.
During the past year, University Advancement has also been successful in expanding alumni engagement and enhancing Seton Hall's national reputation.
"These efforts are to inspire Seton Hall alumni to become more informed, involved and invested in the life and vitality of the University, and to make them aware of the important role philanthropy plays in helping the University achieve future success," said Vice President for University Advancement David Bohan.
Alumni Relations has strengthened opportunities for engagement, volunteerism and servant leadership among our Seton Hall family of alumni, students, parents, faculty, staff and friends. New regional and international chapters and alumni clubs are flourishing as well as affinity groups based on people's interests from their time on campus or after graduation. In addition, the new Executive C-Suite speaker series brings visionary business leaders to our campus to meet with alumni and rising executives to strengthen the University's impact on the business community.
Undergraduate alumni giving participation, an important benchmark in U.S. News & World Report rankings, has increased by 30 percent in the past five years. In addition, members of the Class of 2016, responding to the University's enhanced efforts to engage and celebrate their critical role in the University community, donated at a rate of 15 percent - nearly double the average percentage of of alumni. Membership from alumni, students, parents, faculty, staff and friends in the University's loyalty program, True Blue, also increased 30 percent over the prior year, and more than 780 alumni participated in 53 different volunteer opportunities last year - the highest turnout in the University's history.
At the same time, Public Relations and Marketing significantly increased local and national media coverage of the University during Fiscal Year 2016 to support Seton Hall's strategic goal of enhancing its national visibility and reputation. Positive media coverage increased by nearly 25 percent from the previous year, with press reporting on faculty scholarship, research, the creation of the new College of Communication and the Arts, the announcement of the founding dean of the new School of Medicine, and the campus speech by Ambassador Samantha Power, the U.S. Permanent Representative to the United Nations. To help promote the University's tremendous progress in recent years, PR and Marketing also created a new publication titled, "What Great Minds Can Do," that was distributed to alumni, college presidents, provosts, deans of admissions, and high school guidance counselors around the nation. The publication highlights Seton Hall's numerous achievements in recent years as well as our mission as a place where faith can be nurtured and great minds can take flight.
Categories: Alumni , Campus Life , Faith and Service