The PPAC Team: (pictured from left to right) Radha Patel, Isabella Aiello, Chantal Vergara, Lauren Ginefra.
The Pre-Professional Advising Center also known as the P-PAC, is SHU's newest advising center specifically for students that are interested in a career in healthcare and pursuing a health professional school post-graduation. The P-PAC focuses on working side by side with students through the EXPLORATION phase of identifying different health career paths, the PREPARATION phase of developing into a competitive applicant for professional school and provides guidance and support throughout the entire professional school APPLICATION process. This is P-PAC's first full semester at Seton Hall, and the pre-health community is already feeling the impact that the P-PAC has to offer.
Seton Hall Students share:
"Despite it only being a few months since Seton Hall's Pre-Professional Advising Center (P-PAC) was officially opened, the P-PAC has organized many wonderful events so far this semester. As Co-President of HOSA-Future Health Professionals, I have worked and will continue to work with our E-Board to help spread the word to Seton Hall students of the value that comes from attending any one of their events. I have also met with the Director, Ms. Vergara, on several occasions, and I always walk out of each meeting feeling more prepared to accomplish my goal of becoming a physician one day". (Russell Cook, Class of 2023)
"Seton Hall's P-PAC has provided (me) with countless resources and opportunities that have made my college experience more enriching. The P-PAC has provided unwavering support and has further inspired me to pursue a career in medicine. The P-PAC has prepared me well for the medical school application process. I genuinely do not think I would feel as ready as I do to apply to medical school without the P-PAC". (Ashley Postaski, Class of 2023)
"Although P-PAC came around after I finished my time as an undergraduate, I'm so glad I have this space to connect with other pre-meds and see the start of an incredible foundation for the incoming students and their future" (Khushbu Shah, Class of 2021).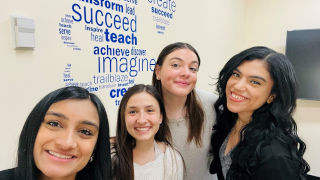 PPAC Team Selfie: We cant wait to see you at the PPAC.
The PPAC offers professional advising and academic coaching. PPAC Director, Ms. Chantal Vergara, meets 1:1 with pre-health students to provide them with developmental advising and guidance to explore, prepare and apply to competitive health professional schools. Ms. Vergara states "Our goal is stay student centered and support students individually as they each have a unique path to their professional goals. It's important for us to build a pre-health community that is welcoming, well informed, supported, and motivated through our programming, advising sessions and outreach."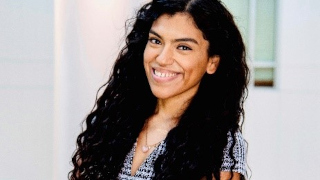 PPAC Director: Ms. Chantal Vergara
In addition to advising, PPAC Director, Chantal Vergara, and her team of P-PAC peer advisors: Radha Patel, Isabella Aiello and Lauren Ginefra have been working hard to bring innovative and informative programming for our pre-health students. Programming has included informational sessions with Hackensack Meridian School of Medicine and Rowan School of Osteopathic Medicine Admissions Teams, where the application processes, requirements and differences between allopathic and osteopathic medicine were discussed. The PPAC has also hosted many events to help students strengthen their applications for professional school such as a Personal Statement Workshop, Overview of the Medical School Application Process program, and How to Become a Competitive Applicant event. Specifically, for those taking the MCAT, the PPAC has provided MCAT review sessions and a MCAT student panel of successful test takers. All events are intended to provide students with information and guidance to help them make informed decisions and identify how to stand out amongst a pool of competitive professional school applicants. The PPAC team shares that they have so many more events planned for this semester.
We are excited to kick off our peer support group and our pre-health exploration series that will allow students to explore health careers. Here is what we have coming up:
Empowered to Achieve: Peer Support Group
The P-PAC also recognizes that it can be challenging to pursue a career in healthcare, so we have arranged a support group that meets biweekly in hopes to provide pre-health students with a safe space to build community and take a break from everyday stressors. The support group will meet on these days:
More from our SHU students:
"Working at the P-PAC as a peer advisor has been an amazing experience for me. I have loved collaborating with Chantal, Lauren, and Isabella to make this center a welcoming and supportive environment for any student who comes in seeking advising. Being a pre-med student myself, I was excited that the P-PAC was being established because I knew how helpful it would be for students pursuing professional schooling. As a junior, I wish that I had this resource when I was freshman/sophomore and strongly encourage all pre-health students to take advantage of everything the center has to offer" (Radha Patel, Class of 2023)
"Because of Covid we weren't able to meet many like-minded people but now with the PPAC we can meet students at different events and build community among other students pursuing the same path". (Jyothi Maruthanal, Class of 2023)
"Especially during such a stressful time, I have been able to build a very strong support system with a group of people who are going through the same struggles I am. PPAC not only provides academic support, but they also provide emotional support, and I am so thankful for the opportunities they have provided for me!" (Kathrynna Demetillo, Class of 2023)
The P-PAC serves all students and alumni regardless of major and year. If you are interested in pursuing a health professional school post-graduation such as medical school, dental school, optometry school, just to name a few - WE ARE HERE FOR YOU! Join the PPAC List here to receive emails on upcoming programs, workshops, panels, and networking opportunities.
The Pre-Professional Advising Center
Make an appointment here
Have a brief question? Visit it us during our P-PAC Drop-in Hours:
Tuesday: 2 p.m. - 4:30 p.m.
Wednesday: 11 a.m. - 1 p.m.
Thursdays: 1 p.m. - 4 p.m.
Categories: Health and Medicine