Wednesday, March 13, 2019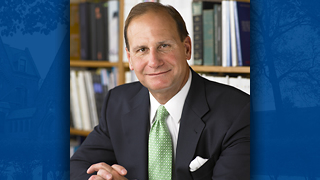 The Eighth Annual Servant Leadership Day will be held on Wednesday, April 10, and is a celebration of Seton Hall University's commitment to forming students as "servant leaders in a global society." Sponsored by the Center for Vocation and Servant Leadership and the Office of Mission & Ministry, it is made possible by the generous benefaction of Colleen and Hank D'Alessandro, Regent. Its purpose is to provide inspiration to the Center's Servant Leader Scholars and to all the University constituencies dedicated to the principles and practice of "servant leadership."
To celebrate this event, all members of the Seton Hall community are invited to a talk given by Joseph Patrnchak, on Wednesday, April 10, from 4:00 to 5:00 p.m., in the Chancellor's Suite. His topic is "Servant Leadership & The Engaged Enterprise."
In this presentation, he will discuss the core principles of Servant Leadership and the powerful, positive effect of Servant Leadership on organizational performance. He will illustrate these ideas with a brief case study of his experience as Chief Human Resources Officer at Cleveland Clinic, where the implementation of Servant Leadership dramatically improved both caregiver engagement and patient satisfaction.
Joseph Patrnchak is Principal of Green Summit Partners, a consulting practice dedicated to helping organizations bring out the best in their people. In his career, he has served as Chief Human Resources Officer at Cleveland Clinic; SVP/Chief HR Officer at Blue Cross Blue Shield of Massachusetts; and VP of Human Resources for HP/Compaq/Digital, including leading HR for the $4.5B Global Customer Services Division.
He holds an M.S. in Human Resources Management and Organizational Development from American University, and a B.A. in Sociology from Northwestern. He is Board Chairman of the Robert Greenleaf Center for Servant Leadership, and the author of The Engaged Enterprise: A Field Guide for the Servant-Leader and Exercises for Management Reflection: The Servant-Leader Workbook.
For more information, contact Linda Garofalo or Francia Peterson at: csl@shu.edu or (973) 313-6042.
Categories: Campus Life