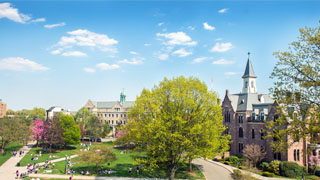 Through numerous ways, the University family is continuing to build upon a legacy of deep devotion to and support of Seton Hall, achieving a series of major milestones during the past year.
Among these inspiring milestones, the University passed the threshold of 100,000 living alumni. Alumni volunteerism grew tremendously, with over 1,000 Pirate volunteers participating in 59 projects ranging from helping with student recruiting to organizing community service projects.
The True Blue loyalty program reached 1,990, a 20 percent increase over the previous year, as students were welcomed into the program.
University donors also continued to support future generations of Pirates by funding more than 70 new scholarships and initiatives with 18,000 individual contributions.
Thanks to the extraordinary generosity of these donors, the entire University raised over $25 million in Fiscal Year 2017, making it a record year and surpassing the previous record of $21.6 million the year before.
"This was another year of great accomplishments for Seton Hall, due in part to the generous commitment of time, talent and financial resources made by alumni, parents, friends and institutional donors," said Interim Vice President for University Advancement Matthew Borowick '89/M.B.A. '94. "Many loyal Setonians were inspired to deepen their connection to our University in truly inspiring ways."
Categories: Campus Life