For the second year in a row, the University SHU Reads! Planning Committee is proud to announce the 2022 text selection-- Just Mercy: A Story of Justice and Redemption by Bryan Stevenson, the executive director of the Equal Justice Initiative (EJI) and professor at New York University Law School.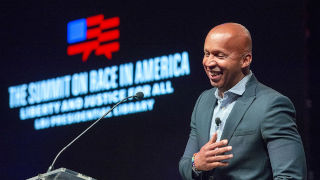 Just Mercy is Stevenson's award-winning memoir about the origins of the Equal Justice Initiative (EJI), a human rights organization in Montgomery, Alabama. Stevenson writes about EJI's early days with a small staff facing the nation's highest death sentencing and execution rates through a successful campaign to challenge the cruel practice of sentencing children to die in prison, as well as more revolutionary projects focusing on America's history of racial injustice. Stevenson explains how the cases described in Just Mercy forever transformed his understanding of humanity and justice. Stevenson has received numerous awards, including the MacArthur Foundation "Genius" Prize, the NAACP William Robert Ming Advocacy Award, and the Martin Luther King Jr. Nonviolent Peace Prize. 
On November 7, 2021, Bryan Stevenson received an honorary doctorate degree (Litterarum Humanarum Doctoris) from Seton Hall in recognition of his lifelong commitment to social justice and advocacy for the poor, the incarcerated and the condemned – including legal representation for death row inmates and a host of extraordinary achievements as a widely acclaimed public interest lawyer.
Since 2003, all incoming first-year students have read a common book over the summer to introduce them to academic and student life at Seton Hall. Formerly called the Summer Reading Program and now called SHU Reads!, the nominated text presents a shared experience to foster thoughtful discussion and engagement in University Life, the first-year English classes, and throughout the academic year.
The Committee felt this timely selection also presents a unique opportunity for current students to re-engage with the text and provide ways for them to connect and mentor incoming first-year students.
Dr. Kelly Shea, Associate Professor of English and Director of First-Year Writing, said, "The selection of Just Mercy is an excellent one for so many reasons - it is an essential book for our time and for all time."
Dr. Nancy Enright, Director of the University Core, shared, "Just Mercy is a wonderful and timely choice – fitting in with our mission and DEI goals, and inspiring for young adults setting out on their career paths."  
Just Mercy is the winner of several awards, including the Carnegie Medal for Excellence in Nonfiction, NAACP Image Award for Nonfiction, Books for a Better Life, An American Library Association Notable Book, and finalists for the Los Angeles Times Book Prize and Kirkus Reviews Prize.  
Please fill out our Suggestion Box if you have suggestions on engaging the Seton Hall community with this text through guest speakers, panels, lectures, film, or other ideas.
Categories: Campus Life , Education