Thursday, September 30, 2021
President Joseph E. Nyre, Ph.D., was named to the NJBIZ Education Power 50 List 2021 by NJBIZ, one of New Jersey's leading business publications.
Through his student-centered leadership, Nyre has successfully guided Seton Hall while advancing a vision to elevate it among the nation's foremost Catholic universities. Emphasizing consummate planning – informed by a firm commitment to shared governance – he brings to life Seton Hall's focus on "what great minds can do."
In making the announcement, NJBIZ staff wrote, "Much of Nyre's tenure as Seton Hall University's 21st president has been spent in the throes of the COVID-19 pandemic. Nyre earned credit as an innovator early on by making Seton Hall the first on the eastern seaboard to announce its fall 2020 plans, when so much was still up in the air."
They continued, "Planning is one of Nyre's fortes: Since late 2020, he's finalized and initiated a multi-year master plan for Seton Hall and commenced a campus master planning process to physically transform the university over the next 15 years in a way that supports learning, student life, and research. Additionally, he's planned and implemented the silent and public phases of the university's first comprehensive fundraising campaign in over a decade, and funding has increased more than 100% year over year."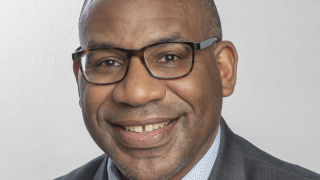 Also recognized for his longstanding contributions to the education and development of our youth was Professor Reginald Lewis, executive director of the Robert K. Greenleaf Center for Servant Leadership and adjunct professor in the University Core.
Describing his earlier role as executive director of the Newark City of Learning Collaborative, NJBIZ wrote, "Enter figures like Reginald Lewis, who have been closely involved in efforts to boost higher education efforts in Newark." Of his latest contributions as Greenleaf Center's executive director, they shared, "There, he's advanced the center's mission 'to advance the awareness, understanding and practice of servant leadership by individuals and organizations.' "
NJBIZ produces leading coverage of business news in New Jersey, a weekly newspaper, daily online reporting and newsletters of top business headlines, as well as dedicated coverage of state legislative action and how it impacts businesses. Founded in 1987, NJBIZ also brings people together at its monthly panel discussions, featuring experts in their fields, and honors the accomplishments of New Jersey businesses and their leaders. NJBIZ is a part of BridgeTower Media.
To access the original article, please visit here.
Categories: Business