Monday, September 10, 2018
Seton Hall University moved up five places among the top tier of national universities in U.S. News & World Report's 2019 America's Best Colleges guide.
In the most recent guide, Seton Hall ranked 119 among the nation's top four-year public, private and for-profit national universities. Last year, in the 2018 edition, Seton Hall ranked 124.
The 2011 edition of U.S. News & World Report's America's Best Colleges guide ranked the University at 136. Since that time, Seton Hall has risen 17 places.
The Stillman School of Business, separately ranked among undergraduate business programs, rose one place to 108 nationally.
In addition to the five-place rise among top-tier national universities and one place among undergraduate business programs, Seton Hall continued its ascent among high school guidance counselors – breaking the Top 100 nationally with a placement of 87 by those whose job it is to advise students on college choice.
With this year's incoming freshman class, the University, under the tenure of Interim President Mary J. Meehan, Ph.D. had the most applicants and enrolled its largest class with the highest average SAT score in Seton Hall history. Those numbers, however, will not factor into the U.S. News ranking calculation until next year.
This year, according to the U.S. News rankings, Seton Hall tied for 11th place among the national top tier Catholic colleges; last year it placed 15th.
"Seton Hall continues to rise in the national colleges rankings because more and more people are becoming aware of our world-class faculty, rigorous academic programs and emphasis on strong ethical development. That's why we are increasingly recognized as one of the leading national Catholic universities in America," said Interim President Mary J. Meehan. "The quality of our students continues to rise as we receive a record number of applicants with each new passing year; our faculty continues to garner national and international acclaim for their research; and now the world is beginning to recognize what great minds can truly accomplish at Seton Hall."
Seton Hall was also named to the U.S. News & World Report's list of "A Plus Schools for B Students," featuring the top 100 national universities for students that are "trapped in the GPA of a B student" and whose "heart is set on a great college," according to the magazine.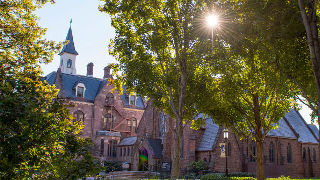 In addition to being recognized as a top national university by U.S. News & World Report, Seton Hall has again been named among the "Best Colleges in the Nation" by The Princeton Review and as a "top value" in higher education in a number of other national rankings. In addition, The Chronicle of Higher Education ranked Seton Hall among the Top 25 of all private universities in the nation for the upward financial mobility of its students.
"The University is committed to academic excellence and providing an outstanding educational value for our students," said Alyssa McCloud, vice president for enrollment management at Seton Hall University. "In addition to our significant investments in campus infrastructure, faculty and academic programming, we invest heavily in the success of our students. Seton Hall is providing over $98 million in financial aid to students this year and approximately 98 percent of undergraduate students will receive direct aid from the University. This continued recognition from U.S. News validates the tremendous progress Seton Hall has made in recent years."
In recent years the University has made significant investments in student scholarships, infrastructure, campus facility upgrades and new buildings. It also entered into a partnership with a leading healthcare provider to open the only private school of medicine in New Jersey— the Hackensack Meridian School of Medicine at Seton Hall and the creation of a new Interprofessional Health Sciences campus.
Categories: Campus Life , Education