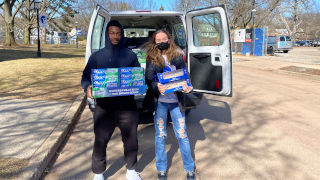 Student volunteers Emmanuel Adjei and Caroline Dymek unloading the DOVE van
Enthusiastically responding to a call to action from President Nyre, Seton Hall students, faculty, staff, administrators, alumni and friends came together in an outpouring of support for the Ukrainian people during a two-day relief effort on March 3 and 4. Through their generosity, the University's Division of Volunteer Efforts (DOVE) received nearly 9,000 "essential use" humanitarian aid items, including diapers, disposable tableware, first aid supplies, personal hygiene products, flashlights and batteries. In addition, DOVE collected $2,451.59 in contributions to purchase additional supplies.
"I am deeply moved – but not surprised – by the tremendous generosity of Setonians to help alleviate the humanitarian crisis in Ukraine," said Joseph E. Nyre, Ph.D., president of Seton Hall. "As a community, we will continue to pray for peace and remain committed to exploring additional actions to assist the victims of this unprovoked assault on the people of Ukraine and their country."
President Nyre and his wife Kelli met with Governor Murphy and his wife Tammy, discussing Mrs. Murphy's collaboration with the Ukrainian American Cultural Center of New Jersey (UACCNJ) in a statewide effort to collect food, clothing, non-perishable items and other life-saving resources for Ukrainian refugees. To ensure timely assistance, the organization needed all donations to be transported on March 6 to a Ukrainian church in Whippany.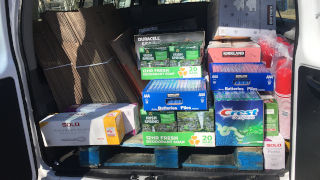 Supplies in the DOVE van
Despite the need for a two-day turnaround time, the Seton Hall community took on the challenge. DOVE, which coordinated the drive, received an inspiring response.
"The DOVE van was so full that we could not fit a single passenger," said Michelle Peterson, director of DOVE. "Despite the short notice, DOVE witnessed the immense generosity of our Seton Hall community yesterday."
As noted, Setonians contributed a variety of "High Priority" items for victims, with work-study students and residential assistants on campus working late to help box and label the donations and load them into the van.

"DOVE is proud to lead this ongoing effort to respond to the injustices happening to innocent members of our human family," said Peterson. "We know this is simply the beginning of our work and stand ready to continue it."
For more information on Seton Hall's initiatives around the tragedy in Ukraine and resources available to the community, please read President Nyre's message here and Father Colin Kay's message here.
Categories: Campus Life , Faith and Service