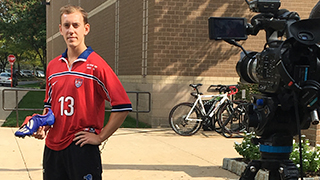 Seton Hall's Department of Public Relations and Marketing and its video production partner, Awesome Films, received two national awards for the University's new "What Great Minds Can Do" television commercial. The video, which debuted during this year's basketball season, earned Collegiate Advertising's gold award, along with a bronze medal from the Educational Advertising Awards.
The Collegiate Advertising Awards program recognizes marketing professionals in higher education for excellence in advertising, marketing and promotion. The Educational Advertising Awards, which is sponsored by the Higher Education Marketing Report, is a national awards program that honors the best in educational advertising and marketing nationally.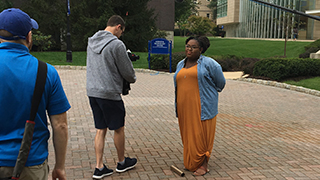 "We are proud to receive this tribute from our peers," said Dan Kalmanson, associate vice president for public relations and marketing. "It not only honors our work in marketing and advertising, but also reflects the accomplishments of the talented students and alumni who are terrific examples of the University's new tagline, 'What Great Minds Can Do.'"
The 30-second TV spot has been broadcast during each of the televised Seton Hall men's basketball games and runs on the jumbotron during home games at the Prudential Center. It also has aired on Comcast and Altice One cable networks throughout northern New Jersey and can be viewed on YouTube. 
The commercial opens with Joseph Murante, a junior economics and finance major, who asks, "What can great minds do?" Murante interned with the Superior Court of New Jersey and plans to attend law school after graduation. He is currently pursuing a minor in legal studies with the Stillman School of Business. Murante said he was proud to have the opportunity to share his experience with the Seton Hall community and with future great minds.
"It was an honor to be a part of the University's new commercial," Murante said. "My family, friends and hometown were all proud to see me on the big screen. Working at the Superior Court of New Jersey was a valuable experience and I am grateful to share it with the Seton Hall community."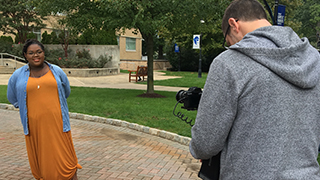 Other students in the commercial also shared their accomplishments and future goals. Layla Ogletree, a physics and civil engineering major, mentioned her dream of working on infrastructure in underdeveloped countries. Bob Towey talked about being a news director at WSOU, Seton Hall's award-winning radio station. Athletic training major, Jolie Tang, is working with her professor on research that helps athletes recover during sudden cardiac events. Patrick Burd, a recent Stillman School graduate, started his own business, "Classic Soccer Cleats," and sold it to a company in England.
In addition, several projects produced by University Advancement received recognition from the Educational Advertising Awards. The Giving Day Launch Video received a silver award in the Fundraising Campaign category, the Pirate Connections Annual Report received a bronze award and the Thanksgiving Video received a merit award for special video production. The Office of Admissions also earned a bronze award for its "What Great Minds Can Do" search pieces.
Categories: Campus Life