Thursday, November 18, 2021
Seton Hall University is proud to officially announce the start of our new Pre-Professional Advising Center (P-PAC)! The center is in line with the Provost's strategic plan and has been developed to provide student centered advising, academic success coaching, skill building workshops, and application cycle preparation for scholars interested in exploring and pursuing careers in medicine and other healthcare fields. The center will focus on developing and supporting students to explore, prepare and apply to varying professional schools such as Medical school, Pharmacy school, Veterinary school, and Optometry School just to name a few. Pre-professional advising is a great addition to the support services already in place at SHU and will fill a great demand. Pre-Professional advising is open to all students regardless of major.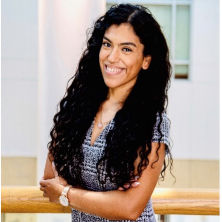 Chantal Vergara MA, NCC, the Director of the Pre-Professional Advising Center, has been hired to spearhead this new initiative at Seton Hall University. She comes to SHU with extensive experience in providing student centered academic advising and career counseling. Ms. Vergara has previously worked at Rowan University School of Osteopathic Medicine, where she supported medical students throughout their intense curriculum and preparation for their national board exams. She worked with her medical students to create individualized learning plans that included long term retention strategies and active learning techniques. In addition, she oversaw the EOF grant funded Pre-Medical Research and Education Program (PREP) that provided an opportunity for pre-medical students who are often underrepresented in the medical profession a chance to explore medicine and gain experiences to support their medical school application. Prior to her work at the medical school, she was the Assistant Director of the Student Success Center at St. Thomas University in Miami, Florida. Chantal earned her undergraduate degree at Seton Hall University and her master's degree in clinical counseling from The College of New Jersey. She is a passionate individual that has dedicated her career to supporting young adults reach their academic and professional career goals. It is her professional mission to help diversify the face of medicine and to continue to carve out professional school opportunities for diverse student populations. 
Ms. Vergara is looking forward to working collaboratively with the SHU community to continue to develop an interactive and innovative Pre-Professional Advising Center. She believes that preparation for professional school is developmental and starts from day 1 of a student's undergraduate career. Therefore, students are encouraged to connect and meet with the P-PAC first semester of freshman year of college and continue every semester throughout the undergraduate journey to professional school. Consistent advising appointments are advised to ensure students are meeting professional school requirements and developing into competitive applicants. Ms. Vergara welcomes students interested in services to make an appointment via COMPASS.
P-PAC services: 
Individual Pre-Professional Advising 
Small Group Pre- Professional Advising 
Informational Sessions
Exposure to different career paths  
Networking opportunities with professionals in the field, clinical physicians, and current medical students 
Student Panels: Advice from students for students 
Academic Success coaching 
Navigation through the Professional School Application Processes
Specialized workshops and experiential programming
Stay Connected: 
Join the Pre-Health Listserv to get up-to-date information, strategies on how to be successful, news on upcoming events, programming and more! Join by completing this short survey!
Now Hiring P-PAC Peer Advisors - Student Team: 
The NEW Pre-Professional Advising Center (P-PAC) is hiring Peer Advisors! Peer Advisors will play a crucial role in the Pre-Professional Advising Center by performing a wide variety of tasks that support the office's mission. Peer Advisors will also benefit from working at the center as it's a great opportunity for personal and professional growth for every student involved. Students that are looking to develop their leadership skills and that are passionate about supporting their peers are encouraged to apply. Federal Work Study and Department Funded positions available. Interested students, apply now.
The P-PAC landing website has launched! Resources and information will be gradually added and updated. To learn more about the Pre-Professional Advising Center click here.
Categories: Health and Medicine