Wednesday, September 5, 2018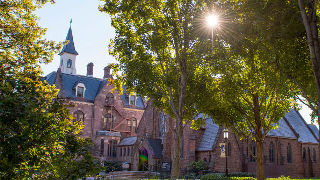 Last January, 600 Seton Hall students and staff came together for a forum on racism. In a letter to the Seton Hall community following that event, Interim President Mary J. Meehan wrote: "Excellence in all things is always our goal, and in no area is this more important than fostering an environment where all members of our community experience respect, and where all can flourish."
To move toward that goal, the University is collecting feedback on the campus climate and planning a series of events aimed at understanding and diminishing prejudice. The Talent of Inclusion Speaker Series, one of the initiatives planned for the year, features four presentations for students and employees intended to help engage in self-reflection by examining how what we say and do promotes inclusion and student and employee success.
Photo of Reginald F. Butler, courtesy of Performance Paradigm, LLC.
The series begins on Thursday, September 13 at 10 a.m. at Bethany Hall with a presentation by Reginald F. Butler, a well-recognized motivational speaker, consultant and educator. Butler is the founder and CEO of Performance Paradigm LLC, an executive education, human capital consultancy, with over 28 years of experience in delivering transformative learning solutions within the private and corporate sectors. "We're excited about bringing Mr. Butler to campus and think he has the right experience to lead our first dialogue on inclusion," explains Michael Silvestro, associate vice president for human resources and a member of the Inclusion Initiative Team.
On Tuesday, October 30 at 2:30 p.m. the speaker series continues with a presentation by Cristina Santos, a senior leader in diversity, inclusion and equality with more than 17 years of healthcare industry experience.
In addition to the speaker series, other inclusion projects include a campus climate survey which, according to Interim Provost Karen Boroff, is intended to "gauge whether all members of our community feel welcome, safe and know that they belong. She adds that the survey allows us to "take a collective pulse on our community's views on inclusivity and will help in our efforts to measure and report accurately on climate at the University."
The theme of inclusion will also be incorporated into the Undergraduate University Core and University Life Course. Readings in Journey of Transformation will include text by the Rev. Martin Luther King Jr., along with supplemental readings and a service learning component, including working with the Sant' Egidio community in New York City. A peer-to-peer discussion about the topics of race and racism will be the focus of one unit of this year's University Life course. More than 75 upper-class students will participate in a weekend training workshop in late September to prepare for the October lessons.
Another part of the University's inclusion initiatives is the performance of Defamation: The Experience on campus on October 22. This interactive performance piece asks the audience to be the jury in a defamation case designed to explore the many "-isms" – racism and sexism, for example – while providing a framework for self-reflection on our own biases.
On Martin Luther King Day, Monday, January 21, Seton Hall will host training workshops on "Diversity and Inclusion" for professionals, teachers, college and high school students. College and professional education credit will be available to participants.
The Diversity Reading Group, which is open to all faculty, staff, and administrators, will meet twice each semester to discuss books that speak to diversity issues of various kinds. Books discussed to date include Apostles of Disunion, The Fire Next Time, and Hillbilly Elegy. Meeting days and times vary.
The Faculty Seminar on Challenging Racism and Teaching for Inclusion will meet weekly during the fall semester. Participants will have the opportunity for knowledgeable reflection and self-reflection concerning racism so that they might become advocates for honest dialogue and agents of transformation at Seton Hall. The seminar will also provide participants with materials and support needed to develop courses or topical materials that focus on matters related to racial justice/equality in their disciplines.
Look for further news and updates on the University's inclusion initiatives taking place on campus throughout the academic year.
Categories: Campus Life