Saturday, January 18, 2020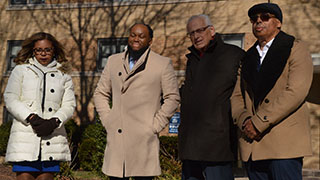 Vice President of Student Services Shawna Cooper-Gibson, Shawn Simons, U.S. Representative Bill Pascrell, Jr. and Alvaro Llanos
U.S. Representatives Bill Pascrell, Jr. and Donald Payne, Jr. visited the University on Friday to mark the 20th anniversary of the Boland Hall fire on January 19, announcing they would be introducing a bipartisan bill to increase safety measures on college campuses across the nation with U.S. Senator Bob Menendez.
Speaking alongside fire survivors Alvaro Llanos, Shawn Simons and Thomas Pugliese, Pascrell and Payne commemorated the lives lost and introduced their legislation, the Campus Fire Safety Education Act.  Also taking part in the announcement ceremony were Vice President of Student Services Shawna Cooper-Gibson, South Orange Fire Chief Daniel Sullivan, New Jersey State Fire Marshall Rich Mikutsky and New Jersey State Firefighters' Mutual Benevolent Association President Ed Donnelly.
"I will never forget the tragic fire at Seton Hall. I will always remember how our community came together after the fire to honor the lives lost and demand change," said Representative Pascrell, who as co-chair of the Congressional Fire Services Caucus has led the charge in Washington for stronger fire safety measures on college campuses. "I vowed on that day to do everything possible to prevent tragedies like this from ever happening again. With passage of the High Rise Fire Sprinkler Incentive Act and legislation establishing the Campus Fire Safety Education Grant Program, I'm proud that we have kept that vow to the students, educators and staffs of colleges nationwide. The passage of our new Campus Fire Safety legislation will continue this important work. God bless the survivors and their families."
"My thoughts and prayers are still with the families who lost loved ones in the Boland Hall fire at Seton Hall University," said Representative Payne. "Since that day, I have worked with my New Jersey colleagues to increase fire safety and protect students. I am proud of the Campus Fire Safety Act I cosponsored with Congressman Pascrell and the similar bill Senator Menendez sponsored in the Senate to improve fire safety education and awareness at colleges and universities across the country.  We need to make sure we are prepared if a fire like the one in Boland Hall happens again."
Shawn Simons and Alvaro Llanos in the Memorial Garden in front of Boland Hall
While they shared that Seton Hall has led the way in campus fire safety nationally since this tragedy, the legislators expressed that fires both on and off campuses have become all too common. Since January 2000, there have been 170 college or university-related fire fatalities. Sprinkler systems and other life-saving devices can only do so much to protect young people.
"Looking back after 20 years, Seton Hall is very dear to my heart. I had a great experience here with my education and meeting so many great people during my time here. It was just something tragic that happened that could have happened anywhere across the country. But I have realized in the 20 years how very far we've come and so much that we have overcome," said Llanos, adding "We believe fire safety is so important. I believe that education of fire safety is the key to saving lives." 
"I always look at January 19 as a day of not only of remembrance but also a day of reflection. It's the day we lost three of our classmates -- Frank, Aaron and John -- but it's also a day we almost lost our lives. We were able to survive this and have a second life in a sense. So our motivation for supporting Seton Hall in such acts as the Campus Fire Safety Act is that it provides education to young adults about the importance of fire safety, something that most colleges didn't do prior to this fire so it's important for us to continue to keep that legacy alive," said Simons.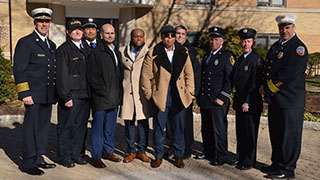 Members of the Fire Safety Community with fire survivors Thomas Pugliese, Shawn Simons and Alvaro Llanos
The Campus Fire Safety Education Act would create a new competitive Campus Fire Safety Education Grant Program at institutions of higher education that will increase fire safety awareness among college students, help improve their fire training and save lives. The grant program will allow institutions of higher education to receive funding to initiate, expand or improve fire safety education programs on their campus. 
Schools can apply on their own or in collaboration with a nonprofit fire safety organization or public safety department, including fraternities and sororities. Because a high proportion of student fires occur off-campus, schools will be encouraged to use these funds to educate students living both on and off-campus.
"As we reflect on the tragic events of January 19, 2000, we are bound together as a community of faith in remembrance of Aaron, Frank and John and how we have been greatly impacted by the Boland Hall fire. We commend our Congressional representatives for advocating for this campus fire safety legislation that could help protect the lives of college students throughout the nation," said Seton Hall University President Joseph E. Nyre, Ph.D.
Categories: Faith and Service , Health and Medicine , Nation and World