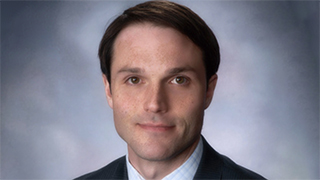 Christopher Duffy, MLIS, AHIP, associate dean of the Health Sciences Library at the Interprofessional Health Sciences (IHS) Campus, has been named a 2021 Champion of Humanistic Care.
Duffy received the award during the Arnold P. Gold Foundation virtual gala on Thursday, June 10. The Gold Foundation, an international nonprofit dedicated to sustaining a culture of compassion, caring and respect in health care, recognized a group of honorees in the health care professions for their courage and extraordinary humanism during the COVID-19 pandemic.
Duffy co-led a task force of students at the Hackensack Meridian School of Medicine that helped parse the emerging coronavirus research in the early days of the pandemic. Their efforts supported frontline health care workers by equipping them with the most up-to-date information in a rapidly changing environment.
In reflecting on his work with the task force, Duffy reinforced the importance of a humanistic approach. "During the harsh times of COVID-19, I was privileged to work alongside an incredible team of students and physicians to aid our frontline healthcare workers in synthesizing the rapidly emerging COVID-19 literature. During this process, humanism and compassion - for our patients and colleagues on the front lines - was at the heart of every step we took."
The team spearheaded multiple projects that supported patient care best practices and community rebuilding efforts in the wake of the devastating effects of the global pandemic.
"Associate Dean Duffy has been from the beginning a leader in information management in serving the public," said John Buschman, Dean of University Libraries. "His work enabled student researchers to be part of the solution to a global problem by offering actionable information in real time to health care practitioners saving lives, an excellent example of the university libraries and its work. The commendation by the Gold Foundation was well earned."
The Champions of Humanistic Care were also recognized alongside three esteemed National Humanism in Medicine Medal recipients:
Anthony Fauci, director of the National Institute of Allergy and Infectious Diseases and chief medical advisor to President Biden, who accepted his medal on behalf of all health care medical teams in America
Wayne Riley, seventeenth president of SUNY Downstate Health Sciences University and chair of the Board of Trustees of the New York Academy of Medicine
Eric Topol, founder and director of the Scripps Research Translational Institute and professor of molecular medicine at Scripps Research
"I am so thankful that during this challenging time I could play a small role in helping those in a time of crisis," said Duffy.
Categories: Arts and Culture , Education , Health and Medicine , Nation and World