The Office of the Provost invites you to a special in-person gathering for our speaker series Impact Talks, featuring Riccardo Illy, former Chairman of Gruppo illy. He is well-known for his expert marketing and business leadership of his family's coffee company, illycaffè, in the 80's and 90's, among many other business ventures. Illy has also held several prestigious positions with governmental organizations across Italy and the EU. Currently he is the Academic Director at Italia Innovation, an organization which fosters research, education, and new ventures in the manufacturing economy with a humanistic approach.
Attendees will be treated to a presentation by Illy highlighting the topic of his latest book, The Art of Excellent Products: Enchanting Customers with Premium Brand Experiences, and he will discuss how proven business principles helped his company to achieve great success in a very crowded and competitive market.
The event will take place on Friday, April 8 from noon – 2 p.m. in Bethany Hall. Following his presentation and Q&A, there will be a light reception and book signing.
Please click here to register.
About Riccardo Illy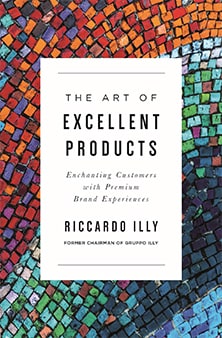 Today, Ricardo Illy is Chairman of Polo del Gusto, the Gruppo illy holding company for their non-coffee businesses, with controlling interests in a number of world-class producers of chocolate, tea, wine, and confections. As a family, they have a passion for quality and for growth pursued the right way: this has led to rewarding investments in everything from Domori's legendary chocolates to Mastrojanni's magnificent wines.
He first joined illycaffè in 1977 to help reorganize the company's commercial structure. In the 1980s, as the rest of the coffee industry proliferated thoughtlessly into blend after blend, he focused illycaffè on producing its flagship blend alone. This emphasis on quality over quantity has more than stood the test of time. During his tenure at illycaffè, he enhanced its sales network both in Italy and abroad and brought illy coffee into groceries as well as offices through single-serving coffee pods. He also headed illycaffè's marketing and communication efforts and redesigned the brand. In 1992, he became illycaffè's CEO.
The following year, he was elected mayor of Trieste, a position he held until 2001, when he was elected a member of Italy's Parliament. In 2003, he was elected President of the Friuli Venezia Giulia region, a position he held until 2008. In 2004, he became President of the Assembly of European Regions, a forum of inter-regional cooperation. In addition to these roles, he held several other prestigious positions with governmental and business organizations across Italy and the EU as a whole.
He lectures regularly at business schools around the world, from Stanford in the United States to HEC in Paris to MIB in Trieste. He is the Academic Director at Italia Innovation, an organization which fosters research, education, and new ventures in the manufacturing economy with a humanistic approach. Since 2018, he has taught a course there on disruptive quality with an acceptance rate under 12% populated by students from MIT, Harvard, Stanford, NYU, Columbia, Yale, Princeton, Georgetown, and UPenn, as well as European universities such as the London School of Economics, Oxford, the Paris Institute of Political Studies, Bocconi University, and LUISS Guido Carli.
He lives in Italy with his wife and daughter. In his spare time, he enjoys skiing and sailing and even gives the occasional lesson.
The Impact Talks Speaker Series
The Impact Talks Speaker Series focuses on understanding the human impact of specific trends, disciplines or industries within communities and societies. "The focus is on humans, humanity, or, following the Latin word 'humanitas,' human nature and kindness," said Provost and Executive Vice President Katia Passerini. "This series is consistent with the University's emphasis on the humanities and liberal arts—educating the heart, mind and spirit, across any profession—and it is the essence of our Catholic and value-based tradition."
Mauro Porcini, SVP and chief design officer at PepsiCo, was the inaugural speaker in June 2021. In December 2021, the series featured a screening of the Emmy-Award winning documentary It Will be Chaos, followed by a panel discussion including film directors Filippo Piscopo and Lorena Luciano, and Associate Dean and Professor Jeff Togman, College of Arts and Sciences.
Categories: Business