Wednesday, October 9, 2019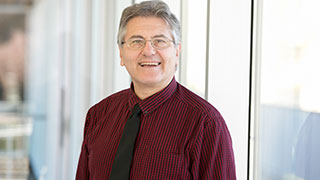 Dr. Anthony Haynor reflects on "The Idea of a University and Interiority: Becoming the 'Author' of One's Life," in the second of four retreats for faculty and administrators of all faiths.
The Heart of the University Retreat Series gives faculty and administrators of all faiths the opportunity for input and guided reflection. The series is co-sponsored by the Office of Mission and Ministry, and the Center for Vocation and Servant Leadership.
The second retreat, given by Dr. Anthony Haynor on the theme of "The Idea of a University and Interiority: Becoming the 'Author' of One's Life," will be held from 9:00 to 11:00 a.m. on Wednesday, November 13, 2019 in the Beck rooms AB, Walsh Library.
This retreat will explore the critical transition in our self-development away from being a social conformist to becoming a genuine and authentic life "author." After presenting several parallel theories, including Lonergan, Piaget, Newman, Kohlberg and others, we will consider how the critical self-transition to "author" can be fostered in our various roles within the academy. Is not the "interiority" associated with becoming authors of our lives the central mission of the University and our journeys within it?
Anthony L. Haynor, Ph.D is an associate professor of sociology. He is a GEM Fellow and teaches for the Catholic Studies Program and the CORE. His current scholarly projects involve developing an integrated human science in dialogue with Catholic thought and forging "cosmopolis" in the
academy and in the wider society.
If you have any questions, contact Linda Garofalo or Francia Peterson at 973-313-6042.
Please RSVP to csl@shu.edu by November 11, 2019. Click here for further information.
Categories: Arts and Culture , Faith and Service