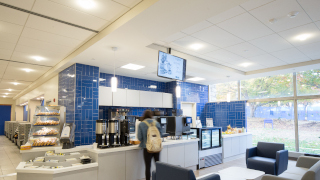 The Seton Hall community values its strong commitment to sustainability as the University invests in major renovations and infrastructure improvements that will greatly enhance the University experience for both current students and a new generation of Setonians.
Thomas Rzeznik, Associate Professor of History and Chair of the Department of History, explains the connection between a respect for our environment and a commitment to Catholic values, part of the curriculum explored with his CORE II students. These signature courses are part of the Catholic intellectual tradition and stress student self-knowledge, a passion for intellectual and ethical engagement, and the development of critical thinking, thoughtful communication, and servant leadership habits for a diverse and evolving planet.
"During the past few decades, humanity has discovered it faces an existential challenge largely created by its own efforts," Rzeznik stated. The curriculum includes the encyclical of Pope Francis, Laudato Si': On Care for Our Common Home, which discusses the importance of sustainability. "Pope Francis describes the deteriorating conditions on Earth, both material and spiritual, and offers moral guidance on addressing these issues."
All major campus projects undergo a "Green" evaluation, usually during the design development phase, which occurs one-quarter of the way through design before construction commences, explained John Signorello, Associate Vice President, Facilities Engineering and Business Affairs.
"The project team takes every opportunity to instill Green principles and concepts within our construction projects that suit each project and the needs of the University. The architects, engineers, and preconstruction managers use LEED as a guideline to determine what approaches occur naturally within the project based on the current state and federal code requirements, location and other indicators coupled with what advances beyond given a cost and return analysis," said Signorello. LEED credentials denote proficiency in sustainable design, construction and operations standards.
The University performed an energy audit as part of its Strategic Plan in 2021. The first project is to install CO2 sensors, fresh air dampers and new thermostats in McQuaid Hall to regulate the amount of outside air brought into the buildings based on CO2 levels. To work efficiently, the CO2 detectors must be connected to the Building Management System (BMS) local area network (LAN). The wiring to extend the LAN is completed, and the required BMS panels are scheduled to ship in March. The energy upgrades will be operational after the new panels are installed and programmed.
Signorello noted that construction for the Boland Hall lobby addition is on schedule and has made significant progress. Concrete work for footings, foundation walls, steel, lower level and first floor slabs, and roof structure for the lobby have all been completed. Site work continues and the enclosure of the building will progress over the next month. The project is scheduled to be completed in August 2022.
Renovations are on target for the iconic and architecturally stunning University Center, with Phase 2 approximately 30% complete. Demolition of the interior and exterior is complete, foundations and steel supports are at present being installed as well as interior framing, ductwork, electrical conduit and sprinkler lines. This phase will include replacing the entire west façade along the campus green, providing new ADA compliant entry vestibules and building circulation, outdoor dining and entertainment areas, and altering the remainder of the lower level, first floor, and second-floor areas. These renovations are on track to be completed in late November 2022. Work is on track to begin Phase 3 renovations, which includes the Theatre in the Round, later this month. That is also scheduled to be completed by the end of November.
"One of the most sustainable things we can do is to reuse existing buildings. By adapting and reusing the existing Bishop Dougherty University Center, Seton Hall has contributed to its sustainable future. Where new elements have been added to the building, they have provided upgrades to thermal comfort and energy resiliency, including: high-performance systems, insulated glazing and curtain wall, LED lighting with daylight controls, as well as low VOC and recycled content finishes. By retaining the existing University Center, memories have also been sustained, while at the same time the building has been refreshed for countless new memories yet to be made," said George M. Hibbs, AIA, principal, Clarke Caton Hintz architectural firm.
The University tracks and requires recycling of waste on construction projects as well as other sustainability best practices. In CY21, the University had 55.7 tons of recycled materials and 1298.4 tons of domestic waste. Increasing recycling is a major goal of the University.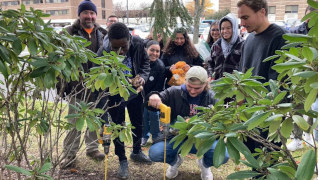 Committed to growing a greener campus and inspiring students to take action to reverse global warming with campus projects, Wanda Knapik is project leader for student sustainability projects and a member of the Environmental Studies faculty.
"Seton Hall is committed to growing a greener campus, engaging students in hands-on projects, outside of the buildings that are being renovated. Students learn to plant perennial flowers and food, beautify the landscape, attract pollinators, and grow healthy vegetables and herbs. Students will utilize the greenhouse on the roof of the McNulty Science building to learn how to grow food from seed and then plant outside the renovated University Center in the six new garden areas designated for student learning," said Knapik.
She added, "I have been partnering with Jeff Truskowski, Director of Grounds, for many years, developing projects for students to connect with nature and make a difference on campus such as planting trees, planting perennial flowers and designing permaculture solutions. Students learn about sustainability in the classroom and then bring the solutions to life outside. Not only does this enhance the student learning experience, this also helps balance and improve their mental health."
Facilities and Business Affairs sponsors the Ecology Club, the EcoFest Event and Earth Day celebrations in April, and the Campus Garden. Working closely on sustainability goals for the campus construction projects, Knapik praises the efforts to conserve energy by upgrading HVAC and lighting, increased recycling and adding recycling containers at focal points across all buildings (inside and outside at entrances/exits). There are efforts to reduce waste in the cafeteria, reducing styrofoam and single-use plastic use as well as reducing food waste. Other initiatives include increasing the use of refillable water bottles and adding water stations in high-traffic buildings, for students to refill their reusable water bottles.
The sustainability planning is designed to increasing the natural beauty by creating a living landscape outside the renovated University Center. Six areas are assigned for student planting projects during Spring and Fall semesters. The drainage of this area will be upgraded to manage storm water runoff. To decrease storm water runoff, students are designing rain gardens to sink water and are planting more flowers and trees.
For more information on how the University is investing in our future visit here. For more information on environmental studies at Seton Hall, visit here.
Categories: Campus Life