Thursday, January 23, 2020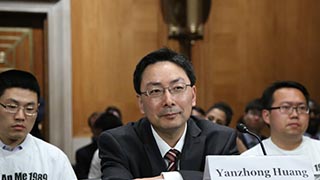 The world's press have reached out to Professor Yanzhong Huang, Director of the School of Diplomacy and International Relations' Center for Global Health Studies, and a Senior Fellow for Global Health at the Council on Foreign Relations to help understand the Wuhan virus, the pneumonia-like coronavirus that has spread from Wuhan, China halfway around the globe, including to Taiwan, Japan, Thailand, South Korea, and the United States. 
Huang, who specializes in the security and foreign policy aspects of health issues, has authored the book Governing Health in Contemporary China and is the founding editor of Global Health Governance: The Scholarly Journal for the New Health Security Paradigm.
He has been interviewed by numerous media outlets on the significance of this latest outbreak, including The New York Times, PBS, Yahoo! Finance, Bloomberg TV, BBC News, Financial Times, Time magazine, The UK Guardian, France 24, Caixin, Wall Street Journal and Public Radio International.  
In an opinion piece published on January 23 in The New York Times, "Is China Setting Itself Up for Another Epidemic?" Huang writes, "On Sunday, a friend of mine in China wrote an ominous, two-word post on WeChat: 'Broke Out.' He meant that a mysterious surge in case of pneumonia in Wuhan, a city in central China, was, in fact, an outbreak of something more serious."
Huang shared that the virus was detected on December 12, and by January 11, local health authorities suggested that the outbreak of this mild virus was over with only two deaths and a few dozen cases on record. However, just days later there were 17 deaths and more than 470 cases confirmed, and fears spread that the virus' trajectory and government response appeared to closely parallel the earlier SARS virus, which in 2002 and 2003 spread to 29 countries, killing 774 people and sickening thousands.  
"Both the Wuhan and the central health authorities could already have done much more to stem the spread of this new virus, including asking people to take precautions like wearing masks. Many suspected cases in Wuhan reportedly were not tested for the disease of quarantined; some people were simply sent home from the hospital without having been screened," he wrote.
In an earlier interview with The New York Times on January 21, Huang discussed his concern that the government had not shared that the virus had spread to mainland cities or that healthcare workers had been infected. "So far this pattern of a lack of transparency and inaction has unfortunately not changed . . . The politics continue to constrain the government to respond effectively," Huang stated.
To learn more on the coronavirus, here are writings and interviews with Professor Huang with Council on Foreign Relations In-Brief on why experts are worried about the new virus; CFR's The President's Inbox podcast: The Wuhan Virus and Public Radio International's The World podcast on the WHO coronavirus meeting.
Click here to learn more about Professor Huang, Director of the Center for Global Health Studies at Seton Hall University and editor-in-chief of the Journal of Global Health Governance.
Links to selected media coverage include:
Categories: Health and Medicine , Nation and World , Research