Friday, November 30, 2018
The generosity of the Seton Hall community this Giving Tuesday on behalf of the Division of Volunteer Efforts (DOVE) resulted in $18,743 in gifts from 415 donors, surpassing the 350-donor goal to impact thousands of lives in the local and global communities.
"The Seton Hall community demonstrated their admiration for DOVE by showing tremendous support on Giving Tuesday. I am thrilled – but not surprised – by the generosity of our graduates in particular, which will help the University reach its strategic goal of receiving gifts from 11 percent of undergraduate alumni in this fiscal year," said Anthony D. Bellucci, Associate Vice President, Alumni Relations & Annual Giving.
This 24-hour campaign helped ensure DOVE's future in building servant leaders and expanding service to others. DOVE supports local and international communities by enabling dedicated students to bring awareness to social injustice through direct involvement in serving others. Making a gift to DOVE allows Seton Hall University to continue serving these local and international communities.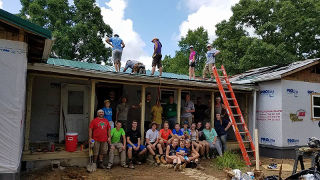 "The outpouring of financial support from Seton Hall's alumni, employees, students, and parents is validation that what we do each day is important. DOVE invites students to understand the overwhelming realities of suffering, inequality, poverty, loneliness, and sadness. We afford students the opportunity to change how they interact with people, to ask and seek answers to real questions about society, to change their own path to one of real joy and fulfillment. We encourage students to find their passion, and to use it to cultivate strength, faith, equality, and HOPE. We strive to provide a space for students to connect, to work out personal problems, to be encouraged, comforted, uplifted and inspired. When our students leave Seton Hall, we hope that service and faith are integral parts of their life forever," said DOVE Director Michelle Peterson.
"And while this money makes an in impact on our students, it also allows us to share Seton Hall's mission in our local and global communities. We all know that there are vast needs; we are all asked to give what we can. This contribution allows DOVE to give so much more," she added. 
The Seton Hall community has been able to bring joy to families through toy drives, provide meals through local food pantries and participate in mission trips to serve in Appalachia, Haiti, El Salvador and Philadelphia. These gifts allow DOVE to continue positively impacting the lives of the local and global communities. A gift of $10 helps purchase one toy for a child in need. A gift of $18.56 (Seton Hall's founding year) helps provide one meal for a family. A gift of $25 helps provide a personal hygiene kit to those in need. A gift of $50 helps buy warm clothes for the homeless this winter season. A gift of $100 helps stock the local soup kitchen.
Among those who responded was alumna and Giving Tuesday donor Tara (DiDomizio) Curtain, who shared, "The Division of Volunteer Efforts at Seton Hall was a cornerstone to my college experience. Sure, I earned both my Bachelor and Master degrees and am very thankful for the incredible education I have received from Seton Hall as an institution. But where I learned the most wasn't in the classroom. It was in the soup kitchen in Newark, NJ. It was in the local nursing home. It was in an orphanage in El Salvador. It was at a food bank. It was working with and volunteering with selfless people whose driving passion in life was to make the world a better place."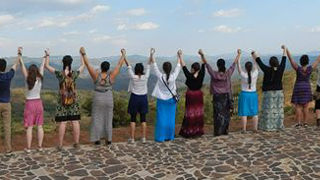 "Because of my experiences with DOVE, I truly know what it means to love your neighbor. And now my children know. You see, DOVE not only makes an impact in the moment for both the student volunteer and those on the receiving end, but far beyond that. Seton Hall helps foster great businesspeople, powerful lawyers, top notch nurses, diplomats, teachers...but because of DOVE, it also helps foster great PEOPLE. People who will make the world a better place. People who raise their children to do the same," she explained, adding "And I may have married the tough boy who I talked into singing Christmas carols to the elderly with me at an Adopt A Grandparent Christmas party."
Categories: Faith and Service , Nation and World