Thursday, August 31, 2017
University life is a mystery to all new students, but national statistics show that it's even more daunting for students who are the first in their family to attend college. At Seton Hall, 25 percent of our incoming class is usually "First Generation," meaning that they are the first in their family to go to college. In order to make sure that our first-generation students unraveled the mysteries of higher education, the university piloted a pre-college program for 25 first-gen freshmen. The program, called "Gen 1," was designed to provide the students with a knowledge of the support services, resources and people at Seton Hall who could help them succeed.
Transitioning to college life can be difficult for any freshman, but first-generation students can face additional barriers to success without guidance from their parents and family members. Studies have shown that first-gen students are less likely to stay in college and graduate. Seton Hall's 10-day initiative, spear-headed by Tracy Gottlieb, vice president of Student Services, was supported by Freshman Studies mentors and peer advisers to immerse students in college life prior to the beginning of classes.
"I decided to participate in Gen 1 because as a first-generation student I really didn't know much about college and what to expect," said Hannah Curran, freshman Secondary Education and History major. "I knew the program would help open doors for me and give me the opportunity to become comfortable with the campus."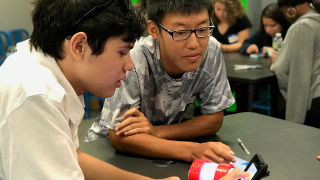 As part of the Math Workshop developed by Dr. Wendiann Sethi Jonathan Quinn and Christopher Lee were in Space 154 learning about robotics and how to utilize the technology in the lab.
Curran found that the most unique part of the program that helped her to relate to her college experience was discovering that almost every interaction was with a Gen 1 guest speaker, mentor or adviser. She also appreciated the additional student experiences, such as taking the train into Manhattan to see the Broadway show, "School of Rock."
She said, "College is a big adjustment for incoming students and the program was able to help me overcome my 'fear of the unknown' and really set me on track for a comfortable first day of class."
Starting on August 13, the students attended day-long workshops designed to provide advice, brush up on math and writing skills, and meet helpful administrators and faculty. The students met Interim President Mary Meehan at the opening family barbecue.
Gen1 Students taking part in an art session community service project. 
"The students were amazing. It was such a diverse group of students and they all had a great attitude and were determined to take in as much as possible from the program," said Anthony Toung Cheong, a senior, chemistry major and a peer adviser for the Gen 1 initiative, and a first-generation student himself.
In fact, the program's peer advisers are all first-generation college students, offering a unique perspective and valuable insight to these incoming freshmen. "As a first- generation international college student from Mauritius, college was very scary, but I am glad to say that I found my home at Seton Hall University," said Cheong.
In addition, more than 70 Seton Hall faculty and staff, who were first-generation college students, have volunteered to be mentors and coaches throughout the year for the students in the program. The Gen 1 initiative is one of the special academic programs offered by Freshman Studies. All incoming first-year students are a part of the Freshman Studies program and are assigned a mentor, a peer adviser and a required University Life course. "Knowledge is power and we want students to feel empowered," said Robin Cunningham, dean of Freshman Studies and Special Academic Programs.
Now that the fall semester has begun, the Gen 1 students attend a University Life class together, supported by the first-generation peer advisers and mentors they met during the summer.
"We want our students to feel connected and understand the language of college," said Gottlieb. The students, as well as their parents, were given the lay of the land when it comes to college, learning about financial aid, scholarships, and other aid available to them. They are clued in on resources at the library, the Career Center, and many others. Gottlieb shared her most important college tips, including how to manage your time and to always ask questions.
"The whole program is centered around support and belonging," added Gottlieb. Peer adviser Maylin Rivera, a sophomore Elementary/Special Education, Math, Speech Language Pathology major, said the program was beneficial. "As a first-generation college student, I have faced dilemmas and had to find solutions myself," Rivera said. "Although my parents could not help me with financial aid questions or math problems, there was a person there to help at Seton Hall."
Gottlieb said she would like to grow the program in the next academic year and strengthen the students' support system. For all students, she encourages personal independence as a means to success in college and beyond. "Your job is to take charge of your academic life."
Categories: Campus Life