On behalf of the 2021 Servant Leader Awards Committee, we are honored to announce the 17th annual Servant Leader Awards recipients.
For the past 17 years, the Servant Leader Awards have striven to seek out and honor students whose dedication to service both on and off campus can serve as an example to their peers and all of us at Seton Hall. Over the years, these awards have shone a light on students who sought to serve others not for recognition but because of their innate call to end social injustice in all walks of life.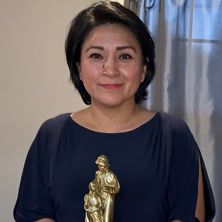 This year we are proud to announce four recipients for this year's awards. Karina Agarwal, a freshman to Seton Hall majoring in Economics; Kelly Gutierrez, a final year candidate in the Elementary and Special Education program; Akaysha Palmer, a Junior in the School of Diplomacy and International Relations; and Amarilis Rodriguez, also a Junior majoring in Biology. Each recipient's contributions to acts of love and service are unique and widespread within the Seton Hall community and beyond.
On April 13th, a virtual ceremony was held in celebration of year's recipients. Family and friends were able to join from near and far to celebrate with our recipients. President Nyre also shared poignant remarks on the role of servant leadership as embodying Christ on earth, which our four recipients exemplify for us.
We are deeply proud of the impact each of our recipients has already made on our community simply by loving their neighbor.
Categories: Faith and Service , Nation and World