Did someone say sweater weather?! Fall at the Hall is officially upon us and the Office of Student Engagement in partnership with Housing and Residence Life, our Greek Municipal Assembly, Student Activities Board and our Student Alumni Association have an exciting array of activities that can help get everyone in the autumnal spirit while we celebrate one of our favorite campus traditions! Whether you are at home watching the leaves change colors, or walking around campus going to class, join us at Fall at the Hall! 
SAA Presents Pumpkin Smash
Thursday, October 15, 2020 | 10:30 am- 2 p.m.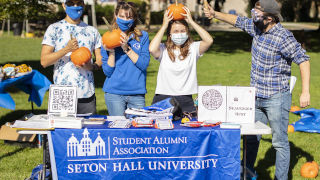 The Student Alumni Association (SAA) will be kicking off Seton Hall's Fall at the Hall festivities with their traditional Pumpkin Smash event on October 15 from 10:30 a.m. – 2 p.m. on The Green. Students will be able to take part in a variety of fall activities such as smashing pumpkins and/or decorating pumpkins, participating in a scavenger hunt and more. There will also be "to go" kits for those that cannot stay for the fun. Plus, there will be chances for you to win prizes and of course some fall treats!  The first hour of the event is reserved for members of the 1856 Student Giving Society. Members will be able to get first pick of their pumpkin and eligible to win a retro Seton Hall t-shirt. Not a member of the 1856 Society? Learn how to become a member today and take advantage of these exclusive opportunities! You can also become a member of the society at the event. Visit: www.shu.edu/1856society.
SAB Presents: Murder Mystery Night
Friday, October 16, 2020 | 6 p.m. EDT
A haunting evening of fun! Can you figure out who did it? Tune in for a virtual murder mystery with a live improv group! Join the Student Activities Board on Friday, October 16 at 6p.m. for a virtual Murder Mystery! This Virtual Mystery provide a one-of-a-kind online experience where you will interact with live suspects, hoping to successfully solve the crime. Space is limited, so register for a spot. 
SAB's Virtual Pumpkin Painting Party
Sunday, October 18, 2020 | 4 p.m. EDT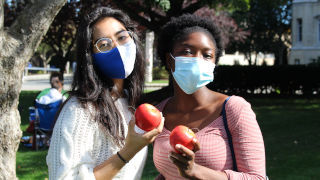 It's Fall at the Hall, so let's enjoy all things autumnal like a virtual pumpkin painting party! Join SAB on Sunday, October 18th at 4pm for a virtual Pumpkin Painting Party with guided instructor. In this class you'll learn how to make classic pumpkin faces and designs on your very own pumpkin. This is BYO class - so be sure to have the following supplies: pumpkins, acrylic paint in assorted colors, and paint brushes! On campus and in need of supplies? Check out the Fall at the Hall pumpkin patch on 10/17!  Register for a spot! 
SAB Presents: Hallowingo (Halloween + Bingo)
Saturday, October 24, 2020 | 7 p.m. EDT 
Join SAB for a spooky Saturday of Halloween themed Bingo! The Student Activities Board is excited to bring you a spooktacular game of virtual Playlist Bingo! Tune in on Saturday, October 24th at 7:00 pm. It's all the fun of Playlist Bingo, but with your favorite Halloween tunes! From haunting beats to chart-topping, iconic theme songs, we've got all of your favorite jams for the spooky season! It'll be impossible not to dance, even if you're in costume. Click here for a link to the event.  
SAB Presents Virtual Magician Brian Miller
Wednesday, October 28, 2020 | 9 p.m.
Trick or treat yo' self to a virtual Magic Show just in time for Halloween! Join the Student Activities Board on Wednesday, October 28th at 9pm EDT for a virtual magic show with magician Brian Miller! Brian has toured all over the world bringing the delight of magic to all ages. Enjoy his tricks, they're sure to be a treat this spooky season! Register for a virtual link to the show. 
SAB & GMA Present: Halloween Drive-In Double Feature 
Friday, October 30, 2020 | 7 and 9 p.m.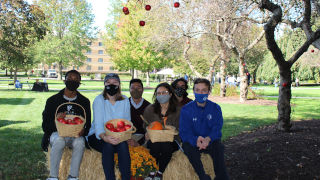 Back by popular demand, the Drive-In is back! Missed it in August? No worries, we're back with spooktacular screenings in time for Halloween! Join SAB and GMA on Friday, October 30th at 7 p.m. for Hocus Pocus and 9 p.m. for Halloweentown a spooktacular double screening! Register here!
Not able to join us in person, not a problem! We are continuing the Fall fun online and at home as well! Whether you are looking to take part in our Fall at the Hall Virtual Photobooth, or just want to switch up your Microsoft Teams Background, there's plenty to do to celebrate the changing seasons and enjoy all things pumpkin! 
We can't wait to celebrate with the entire community and look forward to seeing you online and in-person at our upcoming events! If you have any questions, feel free to reach out to engagement@shu.edu and follow us on Instagram at @HallStudents and @SHU_SAB.
Categories: Campus Life