Haoyu Luo, an Economics and Finance major, has found a home away from home at Seton Hall.
Research studies show that international students attending U.S. universities and colleges face many challenges associated with the transition of being a student abroad.
The unprecedented events of 2020 – the pandemic, travel restrictions, and changes in visa requirements, among them -- further complicated what students might expect to encounter as they attend college in America. Nonetheless, many students are managing to thrive in these tumultuous times.
Haoyu Luo, an Economics and Finance major originally from China, did just that. Luo is one of the more than 300 international students who call Seton Hall home.
She completed the fall semester virtually, working mainly from her apartment in South Orange. She recently received the Mendoza Scholarship, an award given to exceptional international students studying at Seton Hall. Luo is a member of the first group of 10 recipients of this unique scholarship, which encourages international students to become ambassadors for Seton Hall in their home countries.
Initially, Luo considered her decision to study at Seton Hall as a steppingstone to reaching her dream career of working in a multinational corporation. She credits the University's proximity to New York City as a major factor in her decision to attend Seton Hall.
As an international student in the U.S., Luo has made travel a top priority.
As a business student at the Stillman School of Business, Luo prioritized the international perspectives of her professors as another benefit of being at Sent Hall. Additionally, Luo has had the opportunity to indulge her passion for travel. So far she and a close friend she met at school, have traveled together to Miami, San Francisco, Washington D.C, and Reno, Nevada, among other places. "We can't wait for our next trip!" she says.
Luo credits the Office of International Programs (OIP) for providing a place and a community that helped ease her transition to the U.S. Luo explains that, "OIP was the first department I connected with before I came to the U.S. It is not just an office that handles documents, it also hosts events that help international students assimilate to a new life in a foreign country and to make new friends. It provides a sense of security and reassurance that there is a place you can seek help if needed as an international student."
In her role as a Mendoza Scholar, Luo will help introduce Seton Hall to other prospective international students. For international students who may be interested in becoming a Mendoza Scholar, she advises:
"Do not be shy about sharing your idea of promoting Seton Hall overseas. And before applying ask yourself: Why would I like to recommend the school to others? Is it because of the environment? Or because of the people and how they make you feel at home? Or maybe because of the impact it has on your personal growth?"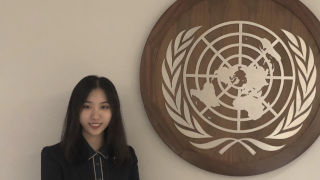 Luo took advantage of Seton Hall's proximity to New York City by visiting the U.N.
For Luo, the gorgeous views of the Seton Hall campus and the surrounding area and her experiences during the pandemic are worth mentioning to prospective students. The University, she said, reacted quickly to the pandemic by updating classrooms to keep everyone safe and building an online learning system. "This experience proved that Seton Hall cares about its students' learning experience and its ability to operate during a time of crisis."
Maria Bouzas, director of the Office of International programs sees great value in the Mendoza Scholarship experience, right from the start. "I genuinely enjoyed reading all of the scholarship applications and learning about students' stories about why they chose Seton Hall and how they have grown as a person since starting their studies. They also had great ideas about how to connect with their communities back home."
International students who are interesting in applying for the Mendoza Scholarship are encouraged to visit the International Students resources website, or contact the Office of International Programs directly at oip@shu.edu.
Categories: Education , Nation and World