Wednesday, September 23, 2020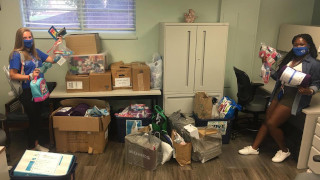 DOVE work studies organizing donations.
"You shall love your neighbor as yourself.' There is no other commandment greater than these." Mark 12: 31.
The Seton Hall community has responded overwhelmingly to DOVE's Haiti Drive. Through the generosity of students, faculty, alumni, and family and friends we have raised $3,350 in financial donations as well as collected over 1,000 essential supplies to Maison Fortuné orphanage in Hinche, Haiti. Within this, we collected over 250 school supplies including backpacks, lunch boxes, notebooks, and pens and have almost 600 hygiene items including soaps, toothpastes, toothbrushes, feminine care products and more. Other donations included bedding and essential clothing items.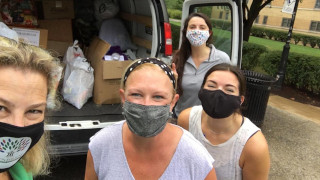 Babs Zuhowski, Executive Director of Maison Fortune Orphanage, arrives to collect donations from DOVE.
These donations are being sent as part of a larger cargo container of donations straight to Port-Au-Prince in Haiti at the end of September and then being directly transported to the orphanage. It is through these acts of love and service that Seton Hall can stand in solidarity with our brothers and sisters during such difficult and tumultuous times. We thank all who have stood with DOVE and supported with this relief drive.
If you missed the opportunity to donate to DOVE's Haiti Drive, do not worry! The 'Christmas in October' toy drive begins October 1, through which we will collect toys for children and families in West Virginia.
To donate financially, visit the DOVE website for more details.
Physical donations can be dropped off at one of our DOVE donation bin sites across campus including the DOVE office, the lobby of the University Center and Boland Hall, Aquinas, and Xavier residence halls.
About DOVE:
The Campus Ministry Division of Volunteer Efforts is one aspect of Seton Hall University's response to the ongoing call for social justice. DOVE seeks to aid Seton Hall University in its commitment to graduate not only well-educated professionals, but also compassionate individuals rooted in and guided by faith and its expression in firm moral convictions. DOVE encourages all members of the Seton Hall community, regardless of faith or service background, to get involved. While DOVE's regular programming is currently on hold due to social distancing protocols, there are a number of digital volunteer opportunities being offered throughout the Fall 2020 semester.
Categories: Faith and Service , Nation and World