Thursday, October 12, 2017
Alumni Help Fund the Project in Recognition of Monsignor Sheeran's Service
Seton Hall University plans to dedicate its newest campus building as a tribute to Monsignor Robert Sheeran '67, in recognition of his 30 years of priestly service to the University, including 15 years as president. Thanks to the successful efforts of several donors and a lead gift from Board of Regents member James O'Brien '82 and his wife, Judy, the generosity of the University community is helping to make the building project in honor of Monsignor Sheeran a reality. 
Monsignor Sheeran requested that the building be named Bethany Hall, after the Biblical village where Mary, Martha and their brother Lazarus received Jesus into their home, as a place of friendship and community.
"I see this name as an acknowledgement of much that Seton Hall represents. For Jesus, Bethany was a place of welcome and hospitality that embodies our mission at Seton Hall as 'a home for the mind, the heart and the spirit,' " said Monsignor Sheeran. "Bethany Hall will serve as an outstanding venue of welcome and engagement for both visitors and students, offering multipurpose space and meeting rooms for campus events."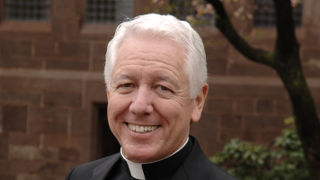 Monsignor Robert Sheeran '67
James O'Brien, Senior Managing Partner at Napier Park Global Capital, appreciates the parallels. "My family and I have been fortunate for many years to first have engaged with the warmth and caring of Monsignor Sheeran ministering to us as a priest and pastor, then experiencing his vision and leadership as a University president. His life's actions for us and many families at Seton Hall are resonant with the lessons of Bethany." 
"This project represents all the best about Seton Hall in so many ways," added Interim President Mary J. Meehan '72/M.A. '74/Ph.D. '01, who has known Monsignor Sheeran for over 30 years. "The building itself will be the first point of entry for future Pirates, welcoming young people just beginning their lifelong relationship with Seton Hall. Generous alumni and friends like Jim and Judy demonstrate the impact our graduates continue to have long after graduation. And, of course, dedicating the building to Monsignor Sheeran, who has devoted his life in service to God, to others and to Seton Hall, speaks volumes about the tremendous gratitude we all hold for him." 
Bethany Hall will serve as a welcoming multipurpose space for both visitors and the University community, offering event space and meeting rooms for students and alumni as well as serving as the central location for admissions activities. Construction is expected to be completed by February 2018, with the dedication ceremony being planned for March. 
President Meehan encourages alumni, staff and University friends to make a donation in honor of Monsignor Sheeran. To participate, please contact Ellen Schoch in University Advancement at (973) 378-9801 or ellen.schoch@shu.edu or visit www.shu.edu/sheeran to make a gift.
Categories: Campus Life , Faith and Service