Members of the University community are invited to participate in a special opportunity to honor former Seton Hall President Monsignor Robert Sheeran '67. The University is dedicating its newest building, Bethany Hall, in recognition of Monsignor Sheeran's unwavering commitment to the needs, goals and future of our students during his many years with the University, including his 15-year tenure as president.
Monsignor Sheeran requested that the building be named Bethany Hall, after the Biblical village where Mary, Martha and their brother Lazarus received Jesus into their home, as a place of friendship and community.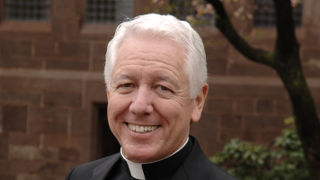 "I see this name as an acknowledgement of much that Seton Hall represents. For Jesus, Bethany was a place of welcome and hospitality that embodies our mission at Seton Hall as 'a home for the mind, the heart and the spirit,' " said Monsignor Sheeran.
Bethany Hall will serve as a welcoming multipurpose space for both visitors and the University community, offering event space and meeting rooms for students and alumni as well as serving as the central location for admissions activities. Construction is expected to be completed by February 2018, with the dedication ceremony being planned for March.
"The project represents all the best about Seton Hall in so many ways," added Interim President Mary J. Meehan '72/M.A. '74/Ph.D. '01, who has known Monsignor Sheeran for over 30 years. "The building itself will be the first point of entry for future Pirates, welcoming young people just beginning their lifelong relationship with Seton Hall. And, of course, dedicating the building to Monsignor Sheeran, who has devoted his life in service to God, to others and to Seton Hall, speaks volumes about the tremendous gratitude we all hold for him."
Gifts in Monsignor Sheeran's honor have been coming in, including from a group of his fellow classmates from the Class of 1967. To make a gift in honor of Monsignor Sheeran, please visit www.shu.edu/sheeran.
Categories: Campus Life