Wednesday, October 28, 2020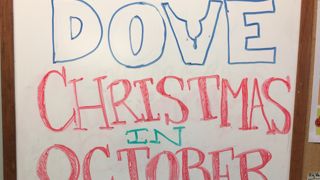 DOVE's Toy Drive final count.
"For it is in giving that we receive"- St Francis of Assisi
Christmas certainly came early to the Division of Volunteer Efforts (DOVE) this year during our annual toy drive.
Due to the early end of the semester, we pushed up our toy drive to the month of October. Each Christmas season, DOVE provides gifts to several schools and agencies in Newark, the Maplewood South Orange School District, and the Don Bosco Youth Center. In addition to local sites, DOVE donates gifts for the impoverished children in Appalachia, West Virginia, as they have done for over 25 years. Many of these children would not receive a Christmas gift if not for DOVE's donations, and we are especially devoted to making Christmas happen for our vulnerable community partners who have felt the effects of the COVID-19 pandemic most.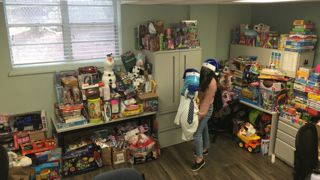 DOVE work study sorting toys.
The Seton Hall community has truly created a Christmas miracle this year! Through your generosity, we have received 825 physical toy donations thus far and have over $4,000 in monetary donations to make even more children's Christmas wishes come true. In the coming weeks, we will be sorting, wrapping, loading, and delivering these gifts to our local communities and our Appalachian communities.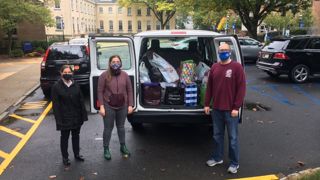 Faculty drop off hundreds of toys to DOVE.
It is your generosity that has made this year's toy drive an absolutely exceptional one. We hope that this upcoming Christmas season you experience the love and joy that you have given through this toy drive. From the bottom of our hearts, thank you for continuing to be a part of this Christmas miracle. Merry Christmas in October!
We still have opportunities for you to get involved! DOVE is hosting one final drive before the end of the semester. At the beginning of November, we will begin our Hunger and Homelessness drive which will benefit local communities struggling with food and housing insecurity. We will be collecting non-perishable food items as well as hygiene and warm clothing items with drop-off locations across campus. More information will be available through DOVE's website and social media outlets.
Categories: Faith and Service , Nation and World