Tuesday, November 10, 2020
"How to Raise Anti-Racist Kids: An Interactive Presentation," co-sponsored by the Center for Faculty Development; the Diversity Office; the Diversity, Equity, and Inclusion Committee; and the Africana Studies Program, will be offered virtually on Monday, November 16, from 7:00pm-8:30pm, in Teams.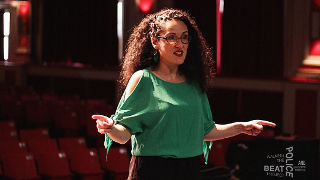 Professor Angela Kotsonis
The presenter at this event will be Prof. Angela Kotsonis, an Instructor in the College of Communication and the Arts. According to Prof. Kotsonis, "If we want to affirm Black life, we have to change the way we teach white children. The most important education is the one we learn at home. White parents can learn alongside their children modeling the bravery required to bend the arc of justice. Children may not listen to what we say; but they watch everything we do. Anti-racism is something we have to do together."
Participants in past iterations of this workshops have said:
"I feel like this is a very hard topic to cover and it was done very well and in an inviting way."
"This gave me great examples of what to do as a parent."
"It was a very impactful training."

A tool kit will be offered to all participants to support the conversations at home.
Prof. Kotsonis is a future aesthetics performance artist writing about race, ethnicity, and class in America. For her teaching, Kariotis integrates social emotional learning (SEL) practices, contemplative learning, and restorative circles into her pedagogy. Her work is hyper focused on classroom inclusivity and active learning. She teaches professional development workshops in arts integration using applied and devised theater practices across the curriculum. This fall, she is finishing her term as Instructor of Communication in the College of Communication and the Arts. For more information about her work, collaborations, and available community workshops, visit her website.
Join this event in Teams here. 
For additional information, contact Mary Balkun at mary.balkun@shu.edu.
To access videos of recent CFD events, visit the "CFD Resources" Team here. 
For news about upcoming events, follow us on our blog here. 
For resources about teaching, research, and work/life balance, visit the CFD website here. 
Categories: Arts and Culture