Thursday, February 11, 2021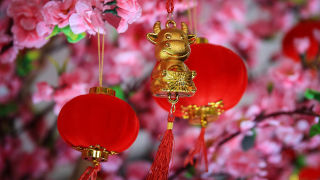 February 12 is the beginning of Lunar New Year -- Chinese Chunjie, Vietnamese Tet, Korean Solnal, Tibetan Losar, and Spring Festival, all celebrate the arrival of the new year in Asia and ends 15 days later with the first full moon. 2021 is the Year of the Ox. In Chinese culture, the Ox is a valued animal because of its role in agriculture and positive attributes, such as being hardworking and honest.
On Friday, February 12, students will celebrate Lunar New Year Celebration in the Halls, hosted by Housing & Residence Life, by decorating red New Year bags, decorating a Chinese Lantern, and picking up a Year of the Ox notepad.  
Additional Online Celebrations
Beginning February 11-13, the Nai-Ni Chen Dance Company will host a free three-day celebration of dance and music for the arrival of the Golden Ox. 
On Saturday, February 13, The Met will celebrate the Year of the Ox with a virtual, Lunar New Year Festival. This free event featured virtual performances, interactive activities, and artist-led workshops for all ages.  
Upcoming Events
Continue to check the University Calendar for additional Lunar New Year events.  
If you are interested in helping to plan Asian American Pacific Islander (AAPI) Month in May 2021, please fill out our interest form.
Categories: Arts and Culture , Campus Life , Nation and World