Thursday, October 31, 2019
National Reputation Continues to Rise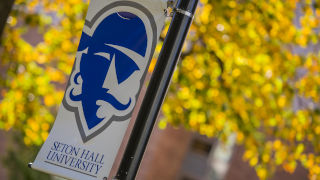 Many universities throughout the country are experiencing recruitment challenges with a declining demographic shift in high school-aged students coupled with a downward national trend of higher education enrollment for eight consecutive years. However, would-be Pirate college applications continue to surge.
USA Today Money reported Seton Hall University is among the top 100 universities in the nation experiencing the largest five-year percentage increase in college applications, with the University achieving 64.2 percent growth. The results come from a 24/7 Wall Street study analyzing National Center for Education statistics for nearly 600 colleges and universities where applications climbed the most.
Seton Hall has broken its own record of applications for the last five years, attaining its largest classes in history for three years in a row as well as the highest average SAT and ACT scores in the University's history. More than 23,000 students completed applications for the class of 2023, which enrolled 1,630 freshmen. Continuing the trend of rising academic achievement, the class of 2023 has the highest average SAT score in the Seton Hall history – 1235, up 20 points in the last two years – and the highest ACT average at 26.5.
One of the country's leading Catholic universities, Seton Hall has been showing the world what great minds can do since 1856. In the past decade, Seton Hall students and alumni have received more than 30 Fulbright Scholarships as well as other prestigious academic honors, including Boren Awards, Pickering Fellowships, Udall Scholarships and a Rhodes Scholarship.
In addition to sustained rigorous academic excellence among students, the University embraces inclusion and diversity in all forms and its identity as a university of opportunity: 25 percent of all incoming students are Pell eligible; 45 percent identify as students of color; 36 percent of all students come from out of state; and 25 percent are the first generation of their families to attend college. The University is also proud to be the third most diverse national Catholic university in the nation.
"Students from throughout New Jersey and around the country are attracted to our outstanding academic reputation, our Catholic values and our warm and nurturing community where they can thrive as exemplary servant leaders and global citizens. We are a university continually on the rise, with the largest classes coming to us in our history during the last three years, with the highest SAT averages and many impressive distinctions," explained Alyssa McCloud, Ph.D., Senior Vice President of Enrollment Management.
This latest accolade is one of many this year that recognizes the strength of Seton Hall's national reputation. The University was again selected as one the "Top Colleges in America" by the Princeton Review; a "Best College for your Money" by Money magazine; a "College of Distinction" and a Forbes "Top College in America." The Stillman School of Business was nationally recognized for its "Return on Investment" by U.S. News & World Report and for its strong academic programs. In addition, our Gerald P. Buccino '63 Center for Leadership Development earned, for the fifth year in a row, a No. 1 ranking in the Leadership 500 Excellence Awards.
Categories: Campus Life , Education