Monday, November 22, 2021
Ed Lucas Senior Portrait.
From The New York Times to Sunday Today with Willie Geist, the national media shared its sentiment and heartfelt tributes as did the Seton Hall community in learning of the passing and celebrating the life of beloved Seton Hall graduate, WSOU alumnus, Emmy winner, philanthropist and legendary sports journalism pioneer Ed Lucas '62.
On Oct. 3, 1951 at the age of 12, Ed and his friends took to the streets to hold their own sandlot game after the excitement of New York Giants outfielder and third baseman Bobby Thomson slamming the shot heard 'round the world' in the ninth inning to win the National League Pennant over the Brooklyn Dodgers. Ed, a lefty pitcher, was struck between the eyes with a wicked line drive, eventually leading to his blindness but never dulling his can-do spirit to go after his dreams.
In 1958, only seven years after losing his sight, Ed attended Seton Hall, and put into practice his lessons on sports broadcasting during his time at WSOU. He earned his degree in communications, one of the first blind students in the country to do so. He shared many of his experiences in his book, Seeing Home: The Ed Lucas Story: A Blind Broadcaster's Story of Overcoming Life's Greatest Obstacles (2015), which he co-wrote with son Christopher.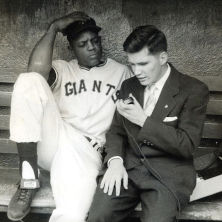 Ed Lucas interviewing Willie Mays.
In a life well lived, he interviewed numerous celebrities and sports icons including Willie Mays, Mickey Mantle, Jackie Robinson, Joe DiMaggio, and his close friend, Yankee shortstop and broadcaster Phil Rizzuto. Ed never forgot alma mater and received the Many Are One Humanitarian Award in 2009 for his inspiring life and philanthropic endeavors.
Lucas explained that "baseball took my sight away, but it gave me a life."
To learn more about the inspiring life of Ed Lucas, visit his 2007 profile in the Seton Hall University magazine and media tributes from Sunday Today with Willie Geist, The New York Times, and NJ.com.
Categories: Alumni