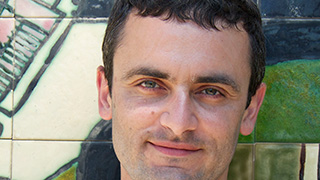 A photo of this year's speaker, Joseph Benatov, Ph.D.
The Graduate Program in Jewish-Christian Studies is pleased to welcome Joseph Benatov. Ph.D. as this year's speaker for the online 2023 Teachers Study Day, "How the Bulgarian Jews Survived the Holocaust." The general public, especially educators, are invited to attend this day of professional development on April 21, 2023 on Microsoft Teams, from 9 a.m. to 12:15 p.m.
Professor Benatov will present two workshops: "How did Bulgarian Jewry survive the Holocaust?" (includes an introduction on Bulgarian Jewry), from 9:15 to 10:40 a.m.; and "Resources for teaching Bulgarian Jewry and the Holocaust - history books, novels popular works and films," from 11:00 a.m. to 12:15 p.m.
"We are looking forward to Professor Benatov's overview about Bulgarian Jewry and his analysis of conflicting opinions about those complicit in the deportations of Jews in the occupied territories in northern Greece and Yugoslavia (Macedonia) and those responsible for the rescue of Bulgaria's Jewish population," said Rabbi Alan Brill, Ph.D., Cooperman/Ross Endowed Chair for Jewish-Christian Studies and director of the Jewish-Christian Studies graduate program. "Remarkably, most Jews in Bulgaria were properly protected and survived the war."
Joseph Benatov holds a Ph.D. in comparative literature from the University of Pennsylvania, where he teaches Hebrew. He has written on competing national narratives of the saving of the Bulgarian Jews during World War II, Jewish identity politics in Philip Roth's early fiction, and the sensationalism of U.S. representations of life behind the Iron Curtain. Professor Benatov has also translated fiction, poetry, and drama, including several plays staged to wide acclaim in Sofia, Bulgaria. He is also the English translator of the contemporary Bulgarian novel Zift. 
Originally from Bulgaria and a member of Sofia's Jewish community, Professor Benatov has over 20 years of experience leading travelers across the Balkans, including UNESCO representatives, 92nd Street Y visitors, JDC board members, and Anti-Defamation League officials. He lectures regularly on the history of Jewish life in Bulgaria and on Balkan Sephardic culture. Every summer Professor Benatov leads Jewish heritage tours to the Sephardic Balkans.
This study day fulfills the New Jersey legislative mandate that all students (K-12) learn about the Holocaust and other genocides and offers three professional development credit hours to participating educators. However, the study day is open to all those interested in learning about Bulgarian Jewry and the Holocaust.
Although the program is offered free of charge, participants must register by contacting Jay Wolferman at Jay.Wolferman@shu.edu or (973) 761-9751.
A confirmation email containing information about joining the Microsoft Teams program will be sent after registering. New Jersey educators will be required to provide the name of their school when registering in order to receive the professional development credit hours. 
Categories: Arts and Culture