Friday, February 26, 2021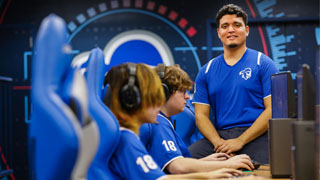 If you don't know a gamer in your personal life or here on campus, you will soon! The world of organized, competitive esports has grown like wildfire. It's now a fast-growing industry with millions of fans and a growing enticement for students. If you have gaming in your institution, You may get more enrollment.
Seton Hall University dove into the gaming world head first with the opening of the esports facility in November 2019. Since then the two Seton Hall esports teams have truly taken advantage of the lab to provide a competitive edge, bringing home two championships last year alone:
2020 Big East-Play VS League of Legends 2nd Place (Fall)
Covid-19 meant only the esports teams maintained access to the facility, while following proper social distancing guidelines and upholding the Seton Hall Pledge. The team did not stick to simply performing on the virtual field however. They contributed to their fellow Setonians by giving them Tips and Tricks in their expertise as well as sharing more about the life of a collegiate esports player during Seton Hall Week . This level of action did not go unnoticed. As reported by the Big East's Esports broadcasting partner EGF, over 800 people attended the Big East x MAAC tournament on EGF's Twitch stream, and across the Fall Rocket league season, over 40, 000 viewers tuned into the 3-month tournament. When asked about his take on his team's success, Seton Hall University Esports Coordinator, Victor Gomez replied "With COVID-19 being a block to not only our competitive teams, but our gamers in general on campus… We are incredibly lucky and proud to have such talented young players here at Seton Hall that fellow pirates can look to as examples of perseverance and determination."
Those qualities are present in each of our team members. And showing standout performances both on and off the playing field, these four players have been recognized for their academic achievement as a part of the EGFC for holding above a 3.5 GPA:
James Heid
Brandon Cordiano
Ryan Kijevcanin
Justin Lee
"eSports is one of those unique activities that we can keep our students and teams 100% engaged with during this unique and difficult semester. We are proud of their perseverance both in the classroom and on the pitch!" said Paul Fisher, the associate chief information officer and Director of the Teaching, Learning and Technology Center. Get involved with SHU Esports! Our contact form is here, alongside the Teams Social Media Information.
About Seton Hall Esports
A leader in the field, Seton Hall has had an esports club team since 2013. Among the first University gaming organizations in the state of New Jersey to be recognized, the team has been asked by a number of gaming organizations to provide insight into the future of collegiate gaming. The Seton Hall Esports team has played a pivotal role in the shaping and formation of league-sanctioned collegiate play. In November 2019, the University completed construction on a state-of-the-art computer lab and esports facility with dedicated and optimized computers for students' recreational and competitive use. The Pirates are Spring 2020 ESL-Big East League of Legends Champions, the 2020 BIG EAST-MAAC Esports Tournament Rocket League Champions, and the 2018 Big East Inaugural Rocket League Winter Invitational Champions.
About the BIG EAST
The BIG EAST Conference is an association of 11 nationally prominent colleges and universities that foster healthy athletic competition, community service and the pursuit of excellence in academic environments. The athletic programs of BIG EAST institutions provide national-caliber participation opportunities for more than 4,100 student-athletes on over 200 men's and women's teams in 22 sports. Established in 1979 and headquartered in New York City, the BIG EAST's members are located in eight of the country's top 36 largest media markets and include Butler University, University of Connecticut, Creighton University, DePaul University, Georgetown University, Marquette University, Providence College, St. John's University, Seton Hall University, Villanova University and Xavier University. For more information, visit www.bigeast.com.
About EGF
Founded in 2015, EGF is the national governing body for formalized collegiate D-I esports and high school level leagues. EGF's youth, high school and D-I collegiate leagues are inspired by the best aspects of traditional sports to create opportunities for students and schools to engage and advance. For more information or to inquire about collegiate participation, please visit EGF.gg , follow @officialEGF on Twitter, Instagram and Twitch and Facebook or contact info@EGF.gg.
Categories: Arts and Culture , Athletics , Campus Life