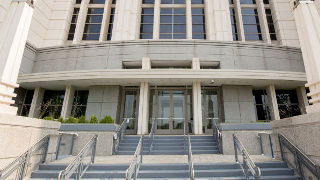 The inaugural class of the Hackensack Meridian School of Medicine at Seton Hall University is seated. Totaling 60 students from a pool of more than 2,100 applicants, the physicians in training were formally welcomed to the healing profession on Tuesday, July 10, 2018 in a white coat ceremony at the new Interprofessional Health Sciences campus in Clifton and Nutley. The ceremony, which serves as a rite of initiation, included a recitation of the World Medical Association's "Physician's Pledge," an oath in which the medical students solemnly pledged to dedicate their lives "to the service of humanity."
A diverse group of students, one in five come from communities who are underrepresented among the ranks of physicians today. The future doctors speak 25 languages, including Arabic, Spanish, Russian, Hindi, Urdu and Korean and include two practicing RNs, five students with master's degrees in public health or science and a graduate of an ROTC program in California. Half of the students come from New Jersey, nearly half are women. Five students in the inaugural class are Seton Hall alumni.
Among the inaugural class are:
Hannah Sidoti is a New Jersey native who received her undergraduate degree in biomedical engineering from Stevens Technical Institute in Hoboken. She said she knew she would be a doctor since she was a little girl — when Dr. Oz performed successful heart surgery on her grandmother. "My grandmother had a hole in her heart. She saw a lot of doctors before Dr. Oz and none of them gave her any hope. My family was devastated. But Doctor Oz said it could be done and that he would do it. He saved my grandma's life when no one else would even try. I knew right then that that's what I wanted to do with my life, to give to others what Dr. Oz had given to me and my family: hope and life."
Alina Bazarian, who received her bachelor's degree from Skidmore College and a master's in medical science from Boston University School of Medicine. After receiving her master's degree Bazarian spent six months as a volunteer in Armenia doing public health research. A first generation American, Bazarian's parents, Ishkhan and Anahit came to the United States in the 1970s from Armenia as part of a diaspora. Her father, Ishkhan, expressed his pride in his daughter's accomplishments: "You hope to give them a foundation when they are young. A strong foundation so they can build upon it. But my daughter is exceeding even my aspirations for her — she is building a skyscraper."
Anshu Kataria from Edison, NJ, holds a bachelor's from Rutgers University and was part of Brown University's inaugural Master of Science in Medical Sciences program. As a child, watching his grandfather struggle with health issues and heart problems pushed him into wanting to study medicine. A trailblazer now in the inaugural class at the School of Medicine, he shared, "I feel Dean Stanton's vision and the goals of this school really match mine. This community-minded approach fosters a feeling of togetherness. I've been a volunteer EMT and volunteering in the community is a feeling that you are home, that New Jersey is your home."
Russell Johnston holds a bachelor's degree from the University of North Carolina at Charlotte and reflected upon all the hard work it had taken to get to this point. "It's a culminating moment — very real and very rewarding." Johnston grew up in Charlotte with the healing arts as a background to his life (his mother is a nurse) and says he would like to someday teach medicine.
Reuben Brathwaite, who
received his undergraduate degree in cell biology and neuroscience from Rutgers, says he thinks he'd like to pursue neurology as a doctor. Brathwaite, who attended Elizabeth High School Upper Academy, said of enrolling in the new School of Medicine, "It's an opportunity to pioneer a new paradigm in medicine." His mother, Elizabeth McGregor, said "You can't put into words how proud I am of him being here."
Joseph Torres grew up in Elizabeth NJ (he attended Elizabeth High School Upper Academy) and received his undergraduate degree from Salisbury University in Maryland. Although he didn't commit to studying to be a doctor early on in life, he always knew he "wanted science." His work at the Cardiovascular ICU at the Jersey Shore Medical Center in Neptune, New Jersey, however, "sealed it." He said, "After I started working there I knew immediately that this was what I wanted to do."
Kristen Galow, a Wisconsin native now living in Old Bridge, NJ, graduated with a bachelor's in cell and molecular biology from Westchester University of Pennsylvania. Working for an orthopedic surgeon who had helped her mom through post-op care, Kristen is passionate on making a difference in the lives of her patients. "I'm hoping to learn how to be an excellent physician and how to provide excellent care to my patients in whatever field of medicine I choose to practice." Said Aunt Sherry, who flew in from Wisconsin to celebrate this milestone, "It means a lot because I know how badly she's wanted to be a doctor. I know how hard she's worked and I've watched her from the time she was a little baby. To see it all come to light, it's very emotional."
Categories: Education , Health and Medicine