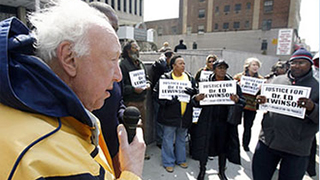 Edwin R. Lewinson was a member of the History Department at Seton Hall University from the early 1960s into the 1990s. Born in Detroit and legally blind from birth, Lewinson completed his undergraduate degree at the University of Michigan and his M.A. and Ph.D. in history from Columbia University. He authored two books: John Purroy Mitchell: Boy Mayor of New York and Black Politics in New York City. He was also the recipient of a teaching and research Fulbright Fellowship to Korea in 1979-1980, where he taught American and British Colonial History and conducted research on the Korean War. The Fulbright was renewed for the academic year 1980-1981. During that time, he interviewed nearly 200 people as part of his research project. Upon his return to the United States, he commenced work on a book on the Korean War and chaired an international conference at Seton Hall on the Korean War.
A pioneer civil rights activist, Lewinson was an early member of the Congress of Racial Equality (CORE), Brooklyn chapter. In 1949, he was arrested during a "sit-in" to desegregate the Greyhound Bus Terminal in Washington, D.C. This was not the end but the beginning of a career as a civil rights activist that spanned more than 50 years. In the summer of 1963, he was among the nearly 700 people arrested in demonstrations at the construction site of the Downstate Medical Center protesting against discriminatory hiring practices. By November of 1964, he had been arrested five times in Civil Rights demonstrations. He attended the 1963 March on Washington and the 1964 World's Fair sit-in. He participated in the early 1960s sit-in civil rights activities to desegregate restaurants and housing and participated in marches for the passage of the 1964 Civil Rights Act and 1965 Voting Rights Act. He continued his civil rights activities with local 1199 of the Hospital Workers Union. After he retired from Seton Hall, he worked in Newark with the People Organized for Progress (POP) to advance civil rights.
Lewinson's vision of social justice included the disabled and victims of war. He was a tireless worker for the disabled and to increase accessibility for blind people. In 1966 he was plaintiff in a lawsuit in New York State that would open jury service to blind people. In the 1980s, he served as the president of the New Jersey chapter of the National Federation of the Blind. He was an opponent of war, imperialism, colonialism, and nuclear weapons and was a member of the International Action Center and New Jersey Peace Action.
Edwin R. Lewinson passed away in 2012 at the age of 82. Throughout his life, he had an inner vision that enabled him to see people and the world in greater depth and breadth than most sighted people. That vision and commitment was based on the innate equality and humanity of all people.