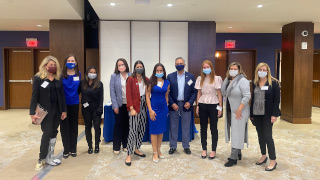 The Women's Leadership Program (WLP), currently hosted in the Business Center of the Buccino Leadership Institute, is designed to prepare women to enter a workforce that has traditionally underserved their needs and talents. The Program currently involves all students who identify as women in the Business Center, which consists of approximately 30 students at any given time.
"My vision is for the Women's Leadership Program to become the place where both mentors and mentees find a home to help each other, advance their careers, and live their passions," said Ruchin Kansal, AD, Business Leadership Center and Faculty, Department of Management.
This program seeks to proactively support women by offering resources and mentorship that will challenge them to learn how to advocate for themselves in the workplace. The Business Center looks to prepare the women in the program for the workforce and equip them to be successful using:
Connection: Connection emphasizes the need for women to support other women. Connecting between ages, interests, and professions is the first step in breaking stereotypes in taking steps to foster connections that broaden perspectives.
Confidence: Confidence acts as the bridge between seeing and achieving a goal. This program aims to continually develop these students into professionals that hold themselves with confidence.
Community: Community is a testament to the ideas of security and support that this program seeks to provide. Offering a place for women to gather, connect and discuss their experiences builds community that strengthens everyone who participates.
Altogether, these values help foster a strong, tight-knit community that helps women grow as business professionals, leaders and people.
The executive leader, Geeta Anjali Trikha, played a large role in the evolution of the program. "My intention as a Leader-in-Residence is to help elevate this program so that it provides a richer experience that is beneficial for all participants now and in the future. I am happy to say the momentum and engagement in the program is growing, thanks to the collective efforts of the steering committee and WLP members," shared Trikha, founder and CEO of Anjali & Associates. "As an alumna of the Stillman School of Business, I am grateful for the mentors that had a positive impact in my career and life decisions. So, I certainly value being involved as a mentor because it allows me to make a difference in the world that's bigger than myself."
Mentorship has remained a focus of the program. Each student is paired with a female executive mentor who is a woman that has experience in the professional world. The nature of every mentorship is aimed to address the unique needs of each student.
Available as soon as their freshman year, students get the opportunity to network and learn in a safe environment from a trusted mentor of the Business Center, as well as hear about their mentor's experiences personally and professionally.
Arianna Weling, one of our student leaders in the Program commented, "The Women's Leadership Program truly transcends my experience; my mentor is a confidante, guide, and friend. she makes me feel much more comfortable, confident, and prepared to grow as a person and leader that will eventually enter the professional world."
Amy Chin a recent Seton Hall graduate and alumna of the Program stated, "In my sophomore year I found my mentor to be a great accountability partner in finding an internship and she helped me discover what I wanted my career to look like."
Mentors can give back and inspire the next generation of female leaders, while also learning from their perspective too. The best mentorships extend beyond the students' time at Seton Hall as life-long connections can form. Overall, mentorship allows for mutually beneficial relationships to flourish.
If you would be interested in participating in this program as a mentor, please contact Ruchin Kansal at ruchin.kansal@shu.edu.
Categories: Business