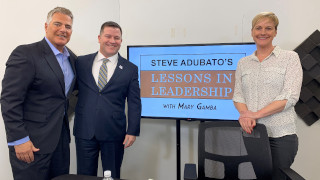 A hand-picked group of freshman and sophomore students from the Buccino Leadership Institute recently completed a special Master Class this semester with renowned leadership and communication expert, Dr. Steve Adubato.
Dr. Adubato is the President of Stand and Deliver, an Emmy award-winning anchor, and the author of multiple books on leadership, including Lessons in Leadership. He's enjoyed a long-standing relationship with Seton Hall University, and he's been a staunch advocate of the Buccino Leadership Institute since its inception.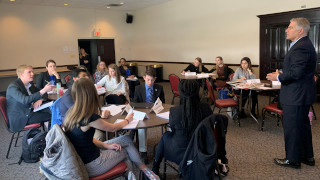 Soon after the Institute opened its doors in August of 2018, Dr. Adubato invited executive director Dr. Bryan Price on his One-on-One television show to talk about the program. He then gave a guest lecture on the connection between communication and leadership to the inaugural class of Buccino students later that spring.
Last summer, Adubato, Price, and Mary Gamba, Dr. Adubato's Vice President of Marketing and Business Development, met to discuss the creation of a Master Class for selected students in the institute.
As a testament to his generosity and commitment to the Institute's mission to develop the next generation of leaders, Dr. Adubato decided to donate his time and expertise to this initiative. Together, they developed a seminar series comprised of three super-sessions over the course of several weeks for 13 hand-picked leadership students.
For sophomore Madi Travisano, a leadership student from the College of Communication and the Arts majoring in journalism, this Master Class was a perfect fit. "Personally, taking a Master Class that combined media and leadership truly made my semester."
The intent behind the Master Class was to give students an in-depth understanding of communication and leadership. The first session took place in February, and right away students realized this wasn't going to be a "normal" class.
"Coming into our sessions, I didn't know what to expect," said Rishi Shah, a freshman leadership student from the College of Arts and Sciences. "But I have grown so much."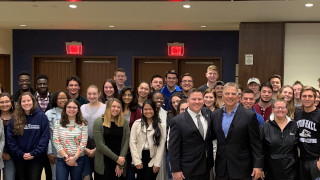 A primary driver of this growth was the fact that Dr. Adubato encouraged students to get comfortable being uncomfortable. He challenged students to be confident and purposeful when they spoke up, and then they were not, he let them know in a constructive manner. Students became more self-aware of their own habits.
One of the more innovative techniques Dr. Adubato used was mini-interviews with students. All students were asked to come to each session prepared to talk about (and potentially debate) something they felt strongly about. Dr. Adubato then put them in front of the class and conducted short interviews lasting 3-5 minutes, many of which were filmed.
During the interviews, Dr. Adubato would interject, change subjects, and challenge assumptions. Could the students stay on topic and get their message out in these circumstances, or would the pressure, stress, and the environment prove too much?
"Putting our students in these types of situations is a part of experiential leadership, and is consistent with other leadership development activities we use to get students outside of their comfort zones," said Dr. Price. "It was awesome to see the evolution and growth in our students from one session to the next. A lot of learning was occurring, for sure."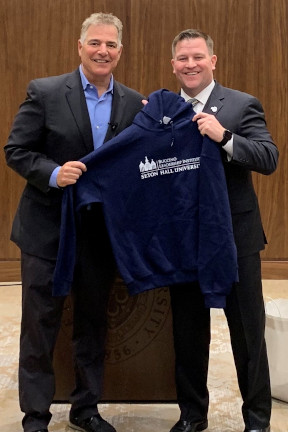 The students were able to put many of Dr. Adubato's concepts into practice immediately. According to sophomore nursing leader Annemarie Ryan, "this Master Class not only helped guide me during my time as a leadership team CEO this semester, but also in my everyday communication with others. This class helped me identify my own communication habits that I was unaware of and ways to improve my communication skills moving forward."
Even though the final session was held online due to the COVID-19 response, both Dr. Adubato and Dr. Price were more than pleased with the outcome in the end.
"Teaching this Master Class at the Buccino Leadership Institute has been an extraordinary experience," said Dr. Adubato. "These students are real future leaders who have the potential to make a positive difference in the world. They were committed, engaged, and willing to adapt when we had to meet remotely."
Price agreed. "Although I'm of course biased when it comes to our leadership students, I was really proud of this select group and the work they put into this Master Class. To get the chance to hear from one of the best in the business is special, and our students more than took advantage of this unique opportunity. My gratitude and thanks go to Steve for making this happen."
Perhaps Ashley Postaski, a freshman leader from the College of Arts and Sciences, summed it up best. "In addition to teaching us valuable lessons about communication, crisis management, and leadership, I'm thankful that Dr. Adubato brought us out of our comfort zones and helped us see our our potential. I will use the knowledge from the master class throughout my whole life."
Categories: Education