Monday, February 28, 2022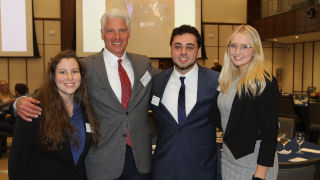 The founder of the leadership development company CoreChoice, Jeffrey Hurwitz, started his enterprise to help individuals and organizations maximize their potential. A values-based coach, Mr. Hurwitz focuses on helping his clients identify their core values, realize why these values are critical to them, and teach them how to lead and solve ethical dilemmas according to their values. By helping his clients establish this principle, he has seen productivity and results amplify in his clients' personal and professional lives.
When asked about how he got into leadership coaching, Mr. Hurwitz said that "I have long been interested in human development and performance, and was keen as an executive in helping my teams perform well and achieve their aspirations. I have also worked extensively with young people, including my work as a volunteer for the All Stars Project, to develop and live lives they can be proud of. With respect to coaching specifically, I had the benefit of being coached as a corporate executive and saw both what good and bad coaching looked like and can do. I retired from the corporate world with the desire to continue to have an impact on businesses and people. I had developed a symposium on ethical dilemmas and values, and a leadership consulting firm asked me to consider executive coaching as part of my services. They trained me and it has been a perfect platform to help drive the success of businesses through the growth of their leaders."
Mr. Hurwitz was introduced to the Buccino Leadership Institute through one of the other partners at his consulting firm. This partner was already a coach within the institute and had been working with our undergraduate students. He urged Mr. Hurwitz to get involved with the Buccino Leadership program and he has been part of the institute's professional coaching staff since 2019.
When asked about his most powerful moment as a coach with Buccino Leadership students, Mr. Hurwitz expressed that there is no particular moment or student who stands out from the rest. "Rather than a moment, I would note a theme I have seen with the BLI students I coached; notwithstanding their skills and accomplishments, often the students were filled with doubt and lacked self-confidence. The most powerful thing I saw was these students embracing the opportunity to grow, to explore their reasons for self-doubt, their courage to try new perspectives and the growth they all achieved. In one case, a very talented young lady went from being very deferential and unsure to delivering a very powerful presentation to the entire institute about the interdisciplinary team she led. We made eye contact at the beginning of her presentation. We greeted each other at the end with a warm embrace and me whispering to her that she had knocked the cover off the ball. I am not sure whose smile was bigger, hers or mine."
As someone who has had the privilege to be coached by Mr. Hurwitz, I can attest to his abilities as a coach. During one of our first coaching sessions, Mr. Hurwitz had me identify my core values and discuss what obstacles may cause me to stray away from leading with these values. Between sessions, Mr. Hurwitz challenged me to apply skills from our meetings to my leadership positions on campus and in aspects of my personal life. I came to each session excited to share how I used techniques we discussed or how I could improve interactions for the future. I cannot thank Mr. Hurwitz enough for helping me overcome my self-doubts, lead from my core values, and develop techniques to stay true to myself.
The Institute and I would like to thank Mr. Jeffrey Hurwitz for his expertise and ability to help myself and other students grow and recognize our true potential. You are a vital part of how our program…. MAKES LEADERS BETTER.
Categories: Business