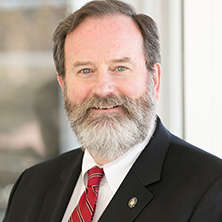 This week the leadership students had the pleasure of listening to a presentation from John Shannon. Mr. Shannon is a professor of legal studies in the Stillman School of Business at Seton Hall University. He has previously served as the Vice President for University Affairs, as well as the Dean of the Stillman School. He spoke to the class on the topics of technology, its implications in the ever-changing world, and the educational processes that college students go through.
His presentation was entitled "What's Behind the Mountain?", and he employed stories and vivid imagery to paint a picture of how technology is important to all disciplines. The skills that employers look for in their job applicants have changed drastically since technology became a staple in professions of all disciplines. Employers now value critical thinking, creativity, cognitive flexibility, and emotional intelligence more than they have in the past. Along with this, the day of paper pushers is over as many jobs are being replaced by machines. In many cases, a machine can work more efficiently than a human and does not need a paycheck. As a result, people lacking in technological literacy are at a distinct disadvantage.
Technology and flexibility are a central focus of the Buccino Leadership Institute. The Institute values the pillar of change management. Exemplary leaders must be able to think on their feet and adapt. Technology is a strong example of how keeping up with trends puts young leaders at the forefront of global discussions on productivity and change. Rua Dinm, a member of the business cohort, discussed how this presentation opened her eyes to technology and its role in her life: "Personally, I knew some information about the presentation, and it truly made me reconsider how I am taking my dream and making it fit into the real world. How my dream [is] going to grow with social media [and] technology."
Professor Shannon's presentation served as a further reminder of the importance of not only adapting to change, but being able to recognize change as it is happening. As students in the Buccino Leadership Institute learned, it is crucial to track the trends and developments in their future careers and adapt to the changing demands in order to best prepare for future careers.
Categories: Business