Wednesday, November 16, 2022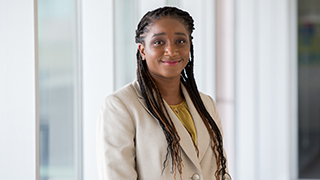 Sophomore Janasia Carter
Persistent, determined, and exceptional are three words that describe sophomore Janasia Carter. A first-generation scholar, Carter is a part of Seton Hall's rigorous accelerated 3+3 law dual degree program where she will be among a select number of students who will complete their Bachelor of Arts in Political Science and Juris Doctor degree in six years instead of seven.  This semester, Carter has added an additional feat to her achievements: an internship with the United States Pretrial Services District of New Jersey in Downtown Newark. This competitive internship is typically reserved for upperclassmen students; however, Carter's poise, confidence, and impressive work ethic have distinguished her as a mature and capable learner. 
When asked about this internship and why she wants to pursue a career in law, Carter remarks on how she had been drawn to law after watching Law and Order growing up. The characters' dedication to serving others inside and outside the court room made her connect with them. Like the other role models in her life, she wanted to grow up to become someone who could use her skills to help others and promote social change. With this goal in mind, Carter was drawn to study political science and law where she found that she could use her knowledge of government and the legal system to promote justice and advocate for those in historically underrepresented communities. 
At this internship, Carter has had the opportunity to observe how the Pre-Trial Services Agency investigates defendants, prepares reports for the court, and supervises defendants to mitigate risks to themselves and the community. Carter says that this opportunity has "expanded [her] understanding of the intricate procedures and processes of the federal criminal justice process and greater judiciary system." She said of the experience, "the substantive information and skills I have acquired through this position has taught me the importance of fostering healthy criminal justice reform at the local level to ensure equality and fairness in judicial pretrial proceedings."
When searching for the perfect post-secondary institution, Carter was drawn to Seton Hall because of its unique 3+3 dual degree law program and the opportunities the University provides to cultivate students' leadership skills. She found that her personal values strongly aligned with the Buccino Leadership Institute's 7Cs's: character, civic engagement, change management, courageous communication, conflict management, collaboration, and ceaselessness. The shared values of this program and the attractiveness of its services such as its leadership coaching, professional advising, and personal assessments appealed to her, as she saw this program as a way to challenge herself as a leader. 
Carter not only excels in her academics, but she is extremely involved on campus. Throughout her first two years of college, Carter has become affiliated with several organizations on campus including the Educational Opportunity Program, the Buccino Leadership Institute, the Servant Leadership Program, as well as a member of several student clubs on campus. 
Carter's commitment to the community and her academic endeavors makes her the embodiment of a servant leader. At barely twenty years old, she is already making an impact on the communities around her. In addition to her studies and club involvements, Carter is a student office worker for the Buccino Leadership Institute, where she works with Buccino faculty members and high-level members of the University leadership team. In this role, she is responsible for providing direct services to the Buccino Leadership program, organizing student records and coordinating Institute-wide leadership events and workshops. Additionally, Carter assists the Stillman School of Business with student outreach and data entry to generate and analyze confidential student databases. 
Staysha Taylor, the coordinator of academic initiatives and Carter's supervisor, has been able to see Carter make lasting contributions to the Seton Hall community. She commends Carter's work-ethic, acknowledging how Carter "has exceled as a Leadership student and student worker for the Institute, has a great rapport with peers, and maintains another part-time job all while demonstrating a great deal of confidence."
The institute is incredibly proud to have students like Janasia Carter in our program. We are extremely impressed with the positive changes she has brought to the University and surrounding communities during her first two years at Seton Hall and we cannot wait to see how this young leader changes the world. 
Categories: Business