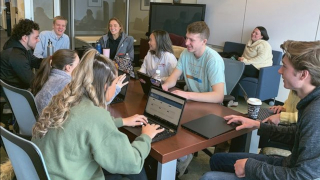 One of last year's Sophomore IDTs in a meeting.
The university's strategic plan highlights the importance of interdisciplinary and experiential learning, and there is no place where both are more on display than the Buccino Leadership Institute.
In what the Institute considers its signature leadership development experience, interdisciplinary teams (IDTs) led by freshmen and sophomore students are currently working on 14 real-world, semester-long projects designed to help improve the university or the surrounding community.
Imagine being a 19-year old sophomore who gets to pitch an original idea to a group of 90 students and faculty, and then have the opportunity to turn that vision into reality with a team of ten highly motivated students that the team leaders gets to "hire."
Along the way, each student receives critical feedback from one of their faculty with cross-disciplinary expertise, their peers, and their very own professional leadership coach.
Unlike other leadership programs which only provide lectures on the subject of leadership, students in the Buccino Leadership Institute get to experience what it's like to lead an interdisciplinary team.
Freshmen IDTs
Freshman students are split into seven teams comprised of 10-11 students to tackle one of three semester-long projects that are pre-determined by Institute faculty.
Each team includes representatives from all six participating schools and colleges at the university, making for seven eclectic groups that view the problem from different academic disciplines and worldviews. Dr. Price and six of the Institute's Associate Directors serve as team mentors, but the teams are 100% student-led.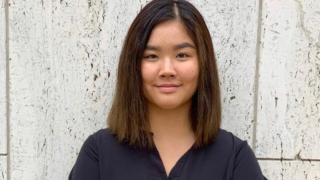 Jaqui Liu, a sophomore from the College of Communication and the Arts, is one of this year's IDT leaders.
During the first session, students must pick a leader, select their project, and settle on a team name. Students learn how to work as part of a team of different personalities, perspectives, and work styles. At the end of the semester, each team delivers a formal presentations on their project to the entire class and university leadership.
The experience only intensifies in sophomore year.
Sophomore IDTs
In what the Institute calls "Leadership Idol," every sophomore has the opportunity to pitch an original idea during the last two weeks of the Fall semester on how to improve Seton Hall or the surrounding community. The class votes on the top seven ideas, and the originators of those ideas then become "CEOs."
The CEOs and their winning ideas this year are:
Zoe Greene (Nursing) - Making Student Services Better
Joseph Kajon (Arts & Sciences) - Becoming HyFlexible
Jiaqi Liu (Comm Arts) - The Hall In Green Initiative
Jaruwat Maendl (Arts & Sciences) - With the Voice of a Leader
Ashley Postaski (Arts & Sciences) - Mentorship Initiative for the Institute and Seton Hall
Elizabeth Rauchet (Arts & Sciences) - Well-being Initiative: Leading Without Limitations
Claire Wolfe (Comm Arts) - The Tracking Triad: Geofencing, Google Searches, & Ad Placement
In the Fall, sophomore leadership students learn about talent management, elite organizational culture, the benefits of building diverse teams, and how to have difficult conversations.
In the Spring, CEOs get to put all of those concepts into use.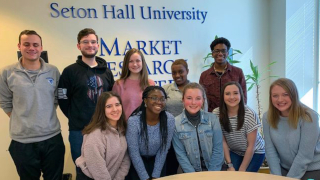 A freshmen IDT from last year created the Institute's Diversity and Inclusion initiative.
In the first class of the Spring semester, the CEOs met with faculty to hire their respective interdisciplinary teams in a draft, similar to a fantasy football draft. Each team must contain a requisite number of students from each cohort. Each IDT CEO has 2 minutes on the clock to make each of their selections, which forces them to do their homework and rank prospective candidates ahead of time.
The teams are less than a month away from their final presentations, but these students have already learned a lot about leadership, and about themselves.
What IDT Leaders Have to Say
Zoe Greene, a sophomore CEO from the College of Nursing, is leading a team that's hoping to improve health services on campus to make student experiences better.
Greene said, "Through the IDT process, I have learned a lot about building my own team. I feel like learning how to build a team is one of the most important skills a leader can learn."
An interdisciplinary team led by College of Arts & Sciences junior Ashley Postaski is working on improving the Institute's mentorship program as well as creating one for students who are not in the leadership program.
"I've already learned so much regarding my own leadership," said Postaski. "This experience has truly allowed me to see myself as a capable leader while also providing me and my team the opportunity to create a lasting impact on not only the Institute, but for all of Seton Hall University as well."
One of the great aspects of IDTs is that they provide students with the ability to experiment with different leadership styles. The Institute creates a safe learning environment where students can make mistakes and grow from them to be the most effective leaders they can be.
Jiaqi Liu, a sophomore IDT leader from the College of Communication and the Arts, had this to say. "So far, I have learned that being a leader does not mean that one needs to have an 'iron fist' nor does it mean that one should change their ideas just to comply with everyone else's opinion. A good leader knows how to include everyone while also staying true to their principles and ideals."
Fellow IDT leader Elizabeth Rauchet, a sophomore from the College of Arts & Sciences, has learned a similar lesson. "Throughout this process, I've learned that I am often too open when it comes to listening to ideas instead of focusing on a few and taking direct action. I've improved this skill by honing in on a few ideas, assigning tasks to certain people within my group, and giving deadlines."
Developing Lifelong Skills
While each IDT leader learns something new about themselves, all appreciate the opportunity to practice leadership and develop lifelong skills.
Liu said, "The IDT projects are my favorite aspect of the Institute because they allow a greater interaction between cohorts while also developing professional and academic skills."
Joseph Kajon, a sophomore from the College of Arts and Sciences who is leading an IDT examining ways to improve the HyFlex model, echoed similar sentiments. "I'm able to gain real-world leadership experience that fosters a better understanding of my personal strengths and weaknesses and ensures I'm ready to successfully lead in my future career."
Claire Wolfe, from the College of Communication and the Arts, has learned to be comfortable being uncomfortable. "The Buccino Leadership Institute has given me the opportunity to grow more comfortable in my strengths, while also challenging and pushing me to overcome my weaknesses."
Perhaps Postaski best sums up the overall value of the IDT experience.
"The experience of leading an IDT means the world to me because I know that I will be using the skills I have developed not only in my future professional career but in the way that I live my life."
Categories: Business , Campus Life , Education