Message from the Director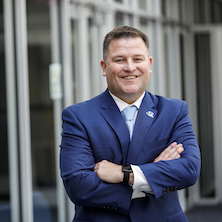 Welcome to the Buccino Leadership Institute. We are excited to begin a new chapter for Seton Hall in this university-wide initiative that builds upon more than two decades of leadership development in the Stillman School of Business.
Of the universities and colleges that offer formal leadership development to their students, most offer leadership only to business school students or they offer it only at the graduate level.
Yet a cursory look at the news today shows that we need leadership now more than ever, and not just in the business world. We are in desperate need of leadership in politics, science and technology, journalism, education, law and health care. So why not expand the gift of leadership development to all students? And why wait to develop leaders until they are seniors, graduate students, or worse, when they are mid-career?
Seton Hall is therefore taking a bold step forward and investing in a comprehensive, four-year leadership development certificate program for competitively-selected students from across the university. Our program features students representing six schools or colleges at the university who study dozens of majors. We learn and practice leadership in an interdisciplinary setting that is supportive yet challenging. We provide professional coaching and mentorship from proven leaders in the field. We use our reputation and network to get students the most impactful internships possible. We are national thought leaders and at the forefront of undergraduate leadership development. We provide our students with the leadership skills needed to make a difference in the world.
At the Buccino Leadership Institute, we develop student leaders to become the best versions of themselves, and then we ask them to do the same for those they lead in the future. We take students who have shown an aptitude and an interest in leadership in high school and then empower them to do more and achieve more.
At Seton Hall's Buccino Leadership Institute, we make leaders … better.
Bryan C. Price, Ph.D.
Lieutenant Colonel (Retired), U.S. Army
Read Dr. Price's Bio (www.shu.edu/leadership/leadership-team.cfm)