What Great Minds Can Do: Tiffany Mendez  
Tiffany Mendez
Nursing major
North Bergen, New Jersey
"Leadership is a life-long journey, and I hope to take what I learn here in the Buccino Leadership Institute and use it not only to lead myself, but also my future colleagues in order to deliver the best patient care possible."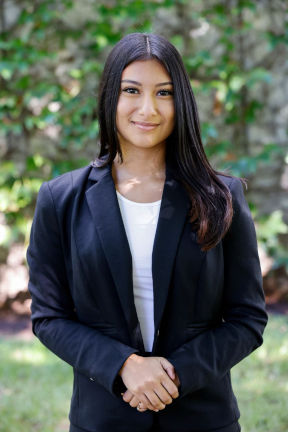 From a young age Tiffany showed that she had a compelling need to help others. Whenever someone in her house would get sick, she would go to their bedside with a notepad and pen and would assess them as if she were a doctor. At the end she would write down in her notepad her treatment plan for her "patient." There is no doubt that Tiffany was born destined to be in the health care profession. After several years of research, she was able to realize that nursing was her passion. Soon after she decided this path, she began volunteering at Palisades Medical Center in the same-day-surgery unit. She fell in love with the environment and her experience there reinforced her love for nursing. The part she enjoyed most was communicating with patients and helping them feel more comfortable during an anxious time.
Throughout her academic career, she has always pushed herself beyond her limits to achieve the best possible grades. As a senior in high school, Tiffany became the committee woman for two separate fundraisers for the Children's Miracle Network. This experience taught her the importance of leadership and how it can make an impact on health care. Aside from this experience, Tiffany has held various leadership positions both in and out of school. She had the honor of serving as Vice-President for her high school's National Honors Society and being a club leader for three children's clubs at the North Bergen Public Library. Thankfully, Dr. Katherine Connolly was able to recognize the incredible leadership abilities that Tiffany possesses and personally offered her a position in the highly competitive Buccino Leadership Institute at Seton Hall University. Ultimately, this was the factor that led to Tiffany's commitment to Seton Hall University, along with their impressive resources towards the nursing program.
Since entering Seton Hall University, Tiffany has excelled in all her classes- making the Dean's List for both of her freshman semesters. She has shown so much growth as leader during her freshman year, while working in an interdisciplinary team along with other leaderships students. She has also recently become involved in various clubs and organizations in the University. As a member of the Global Medical Brigades, Tiffany plans to participate in a brigade this academic year, serving as a volunteer. One of her dreams is to be able to volunteer in underprivileged parts of Central America, which is where her family is from.
As a nurse, Tiffany hopes to inspire others to collaboratively work as a team towards the common goal of enhanced patient care. Her second most important goal is to create a sense of support between nurses, who evidently experience a lot of stress in their career. She plans to continue her education after her bachelor's degree to become a Nurse Practitioner. Tiffany's journey here at Seton Hall is only the beginning.
Seton Hall Career Highlights:
Competitively selected into the Buccino Leadership Institute
Member of the Student Nurses Association
Member of the Global Medical Brigades
Member of the Medlife movement
Member of the American Sign Language and Deaf Culture Club
Winner of the First-Year Writing Contest (2021)