What Great Minds Can Do: Shweta Parthasarathy  
"To be a global leader and changemaker, you first have to be a global citizen. Understand those around you. Learn about other cultures. Take in the world you want to change before you envision a changed world."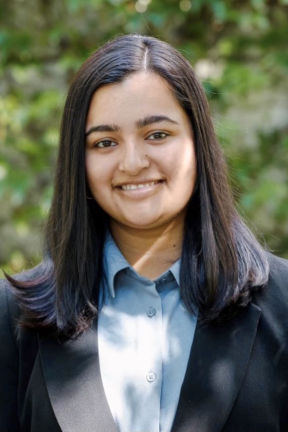 Using her voice, and empowering others to use theirs, has always been important to Shweta. Every part of her personal and academic leadership journey has been focused on serving others. Outside of school, Shweta has shared her talent for Indian classical music and dance as a teacher for several years, and, through dance, raised $7,000 for charity. In high school, Shweta served as the president of Thirst Project, a club dedicated to building clean water sources in third-world countries. She also volunteered at a hospital, taught differently abled children during summers, and advocated for others through Model UN and Mock Trial.
These examples of servant leadership have continued in Shweta's college career, where she is a dedicated Honors student in the dual degree Diplomacy & International Relations and Law program. She is active in several student organizations, including Seton Hall's Model UN team, and both the Pre-Law Student Association and Minority Pre-Law Organization. She is also a member of The Diplomatic Envoy's editorial board.
Shweta also serves as the manager and secretary for SHU Taal, an Indian classical dance team, which allows her to not only continue exploring a tradition close to her heart but also share her cultural experiences with others in the Seton Hall community. As a member of multiple minority communities herself, embracing cultural differences and recognizing the necessity of balanced perspectives is incredibly important to Shweta, especially in leadership settings. Growing up straddling two distinct cultures taught her to respect opposing opinions, instead of ignoring them.
Shweta's personal background, especially the incredibly strong and powerful women in her life that inspire her every day, has also given her a unique passion for gender equality, especially for young girls. She founded and serves as the president for Girl Up Seton Hall, a chapter of an internationally recognized United Nations Foundation initiative dedicated to raising awareness and funds for challenges faced by young girls around the world. Just after founding this student organization, Shweta had an incredible experience interning for Girl Up's headquarters at the UNF, where she gained experience in everything from traditional office work, to public speaking, to grassroots advocacy. She even had the great fortune of representing the UNF at UNA-USA's Day of Action in conversation with members of the US Senate and House of Representatives. Through this experience with Girl Up and an internship with the World Affairs Council of New Jersey, Shweta is developing her interests in women's rights, economic and income equality, sustainable development, and much more. Shweta will further explore these interests as an Intern with the Tinker Institute on International Law and Organizations in 2022.
Shweta's goal, regardless of what career path she follows, is to effect positive change in the lives of as many people as she can reach. That requires the very leadership skills she has been developing and will continue to develop through her college experiences. To Shweta, effective leadership requires more than intelligence and expertise- leaders need compassion, dedication, respect for others, and, most importantly, integrity. She says, "The best leaders lead with what's in their hearts just as much as what's in their heads."
Seton Hall Career Highlights:
Competitively selected into the Buccino Leadership Institute's Diplomacy Cohort
Member of the Diversity & Inclusion Initiative, Selection Committee, and Leadership Student Council within the Buccino Leadership Institute
Seton Hall Honors Program
Accelerated B.S./J.D. Program
Co-Founder and President of Girl Up Seton Hall
Staff Writer and Digital Editor for The Diplomatic Envoy
Manager and Secretary of SHU Taal
Member of SHUNA, Women of Diplomacy, PLSA, and MPLO